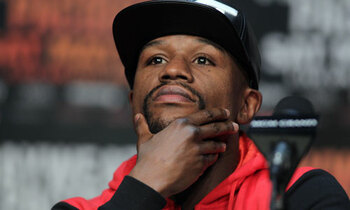 LAS VEGAS - Floyd Mayweather stood nose to nose with Manny Pacquiao for the first time at Wednesday's news conference, then said he can't promise their mega showdown will live up to all the pre-fight hype.

"I can't say," Mayweather said when asked if the richest fight in boxing history will live up to its blockbuster billing.

"Even if we fought at an extremely high pace, it is not for me to judge. My job is to go out and do my best. Just be Floyd Mayweather."

Mayweather squares off against Filipino boxing icon Pacquiao in the richest fight in boxing history Saturday at the MGM Grand Hotel that is expected to generate some $400 million in revenue.

  (L-R) Trainer Floyd Mayweather Sr., WBC/WBA welterweight champion Floyd Mayweather Jr., WBO welterweight champion Manny Pacquiao and trainer Freddie Roach pose during a news conference at the KA Theatre at MGM Grand Hotel & Casino on April 29, 2015 in Las Vegas, Nevada. The two will face each other in a unification bout on May 2, 2015 in Las Vegas.   Ethan Miller/Getty Images/AFP

Mayweather spoke to a small group of reporters following Wednesday's news conference which finished with the two future Hall of Famers getting up close and personal for the cameras in a stare down at the front of the brightly-lit stage in the MGM's Ka Theatre.

Mayweather said weeks of working out, sparring hundreds of rounds and watching film at his Las Vegas gym have prepared him to fight Pacquiao. But he plans to spend the next few days taking his mind off the fight.


  WBC/WBA welterweight champion Floyd Mayweather Jr. (L) and WBO welterweight champion Manny Pacquiao face off during a news conference at the KA Theatre at MGM Grand Hotel & Casino on April 29, 2015 in Las Vegas, Nevada. The two will face each other in a unification bout on May 2, 2015 in Las Vegas.   Ethan Miller/Getty Images/AFP
"I am going to be watching movies and watching playoff basketball," Mayweather said. "The only thing I can do now is take it one day at a time.

"I am going to go home and rest. The next time I hear anything about boxing will be at the weigh in."

World Boxing Council and World Boxing Association welterweight champion Mayweather and World Boxing Organization champ Pacquiao agreed to the fight in February after years of on and off again speculation over whether the two would ever meet.

Mayweather has been unusually quiet in the build up to the Pacquiao fight. He says he doesn't need to resort to trash talk to sell this one.

"From beginning of my career I have always had a game plan. I make calculated moves inside the ring and outside the ring.

"Me speaking out loud and having personality, I did that in the past. I am a lot older and wiser and this fight sells itself. I don't have to do it.

"Before I would come out and speak in a flamboyant "Money" persona. It was all about entertainment."

Not good versus evil

Mayweather says he doesn't want to be portrayed as the bad guy for this fight.

"This fight is not good versus evil. It is one fighter who is at the top and another. I believe in my skills and believe I will be victorious.

"When I went into training camp I worked hard to win this fight and I am sure he did the same.

"I don't take nothing away Pacquiao. He is going to be an intriguing matchup on Saturday.

"He didn't get to where he got by not beating tough competition."

Both fighters are expected to make well over $100 million from the welterweight unification bout with 60 percent of the purse going to Mayweather and Pacquiao collecting the other 40 percent.

Mayweather says the money isn't important because he has everything he wants.

"When you get to this point ... once you make so much money, there is nothing you can buy anymore," he said.

Mayweather dismissed suggestions Wednesday that he would come into the ring Saturday weighing an unofficial 160 pounds (72.57 kg), even after the expected weight gain that will follow the weigh-in for the welterweight limit of 147 pounds (67 kg).

"I have never seen 155 (70.31 kg)," he said. "I just look big because I am working hard. I am the bigger, stronger guy."

AFP