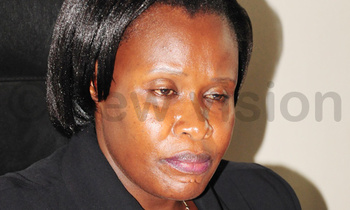 By Innocent Anguyo
IN the wake of growing cases of schools fleecing parents under the guise of exams registration fees, Education Minister Jessica Alupo has tasked the Director of Basic Education to constitute a team to probe the matter across the country.
Her directive follows the publishing of the findings of a mini survey conducted by the New Vision which established that hundreds of schools across the country were inflating exams registration fees far above the official figures.
Speaking to New Vision in an interview, Alupo expressed profound disgust for inflated exams registration fees, saying she would not watch as parents are being cheated by schools.
 "I expect the team headed by the director of basic education to get to the bottom of this. Inflating registration fees above that prescribed by the Uganda National Examinations Board (UNEB) is illegal and criminal," said a furious Alupo.
The minister said she expected a report carrying the findings of the probe to be submitted to her in three weeks' time. Schools found to have inflated exams fees, Alupo revealed would see their centres withdrawn.
"Those schools that charge above UNEB's official figures will also have to refund the additional money to parents," Alupo warned. The minister urges schools to cooperate with the probe team and avail to them all the required information. She equally asks parents to report cases of inflated registration fees.
The probe, she added was also aimed at exposing "big" and "well performing" schools that register their average students in other examination centres, "just because they don't want their academic record to be perforated".
Identifying private schools as lead suspects for such, Alupo said forcing average students to sit national examinations in other centres without their consent is utterly unprofessional.
UNEB recently issued the genuine fees structure for this year's examinations scheduled for October/November.
UNEB has capped registration fees for Uganda Advanced Certificate of Education (UACE) at sh129, 000. This fee, according to a statement from UNEB, is inclusive of entry form and photo collection form- contrary to independent charges levied for these components by some schools.
For Uganda Certificate of Education (UCE), sh123, 000 is what UNEB has asked parents to pay for registration-equally covering entry form and institutions' choices.
Registration fee for Primary Leaving Examination (PLE) has been fixed at sh24, 000. Although it has often been clearly stated that government will continue to pay the PLE registration fees for Universal Primary Education (UPE) candidates, it has poignantly arisen that some schools are asking such pupils to pay for registration.
In the circular carrying the official examination fees structure for this year, UNEB had warned "head teachers against charging more than the respective amounts indicated."
Registration of candidates for PLE, UCE and UACE started on Wednesday April 1, with issuance of entry forms.
Deadline for normal registration of all candidates is April 30. Those candidates who fail to register under the normal period will be given a second chance to do so, from Friday May 1 to Sunday May 31-but at a higher fee.
Late registration for UCE and UACE will attract a surcharge of 50% of total registration fee, and late registration for PLE will also attract a surcharge of 100% of the total registration fee.
Recently, a parent who preferred to remain anonymous for fear of reprisal from the school of her children wrote a letter in the New Vision, calling on the education ministry to probe cases of inflated exams fees.
She said her two children in candidate classes at Crested Secondary School in Makindye, Kampala were being asked to pay sh200, 000 as exams fees on top of fixing registration dates as March 24 to April 14- contrary to UNEB's schedule.
 "I write to request the MoES (The education ministry) to clearly send out information to all parents both in the newspapers and radio on actual registration fees and registration deadlines and save many pupils around this country, especially those in private schools from missing out on registration for the exams."
Coltilda Nakate Kikomeko, the chairperson of the Association of Secondary School Head teachers of Uganda (ASSHU) welcomed investigations to find out the schools inflating registration fees.