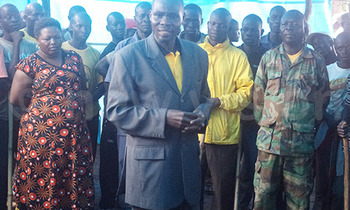 By David Labeja
FORMER Kilak County MP who recently crossed from Forum for Democratic Change (FDC) to the National Resistance Movement (NRM) Michael Nyeko Ocula has expressed interest in participating in NRM Primary elections so that he can contest for the seat in 2016.
Speaking at an NRM organized cadre training held in Awee trading centre in Amuru, Ocula said there was no leader as experienced as himself in Amuru.
"I joined NRM so that I can participate in improving people's lives by fighting poverty. While in opposition I fought for infrastructure, now there is a tarmacked (Gulu-Juba) road, there is electricity in Kilak, why should I continue opposing?" Ocula said.
Ocula was MP for Kilak from 2001 to 2011, but lost to independent candidate Gilbert Olanya in 2011 in a hotly contested election. Last month, Ocula abandoned the FDC camp and crossed to the NRM during a ceremony to remember the Lamogi rebellion against the British in 1911. He said he was tired of opposing and was ready to work with government.
"I will contest for the Kilak MP seat under NRM if selected as the flag bearer, I am sure of winning the election," Ocula said.
He said he was active in creating the FDC structures in Amuru district and Acholi as a whole, and was going to use the same structures to win elections.
"I spent over sh11m of my own money setting up structures for the FDC, I will use the same network because most of the people in the FDC structure trust me and believe in me," Ocula said.
The NRM chairman for Amuru district Richard Lanek said the NRM encourages internal democracy and Ocula will be welcome to participate in the primary elections due in September.
FDC Chairman for Amuru Michael Lakony said they will have their own candidate and there was no one who will be interested in voting for an NRM candidate.
"Ocula garnered less than 500 votes in 2011, and the FDC candidate Anthony Akol got more than 9000 votes, how does Ocula think he can convince FDC members to vote for him?" Lakony wondered.
Several fans of the Rupiny facebook page were wary of Ocula's bid, saying the NRM may be signing in a losing candidate should they vote in Ocula as their flag bearer.
Lucy Uma wrote, "Ocula should not think changing a political party makes a politician more able. In any case Ocula should sit with head bowed in the NRM house, the way a newly eloped girl sits in her husband's house."
Isaac Ojok, who said he is an NRM member in Amuru said, "As an NRM supporter I will not accept someone who will make my party lose elections, Ocula should first learn the NRM song before he can start to dance."