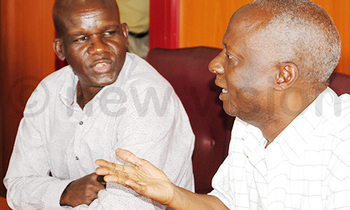 By Nicholas Wassajja
THE Uganda People's Congress (UPC) bosses have expressed differing views over President Yoweri Museveni's objection to taxing private education institutions.
The UPC spokesperson Okello Lucima addressing journalists at the party's weekly news conference said that taxes on private schools should be maintained like it is for all other private investors.
Early this week while addressing a meeting of private schools proprietors, President Yoweri Museveni opposed taxing private education institutions saying schools are a pre-requisite for infrastructure development.  
Lucima explained that exempting private schools is unrealistic to the economy because proprietors charge heavy school fees and requirements to maximize profit.
"These exorbitant charges are meant to maximize profit. Saying you are not going to tax income at the expense of the economy is unrealistic and politicking," Lucima said.
He also noted that private schools have failed to close in on access and equity for the less privileged Ugandans thus they should be treated like the investors they are in real sense.   
However, in a separate interview with the UPC vice president Joseph Bossa sharply argued that taxing private schools is unfair because the institutions cover the gap where government has failed to fulfill its obligation
While differing from the party's earlier stand, Bossa said that, "if the economy can afford offering very generous tax holidays to other private investors, why not offer a leverage of a tax free private education sector to bolster its efforts in filling up where government has failed."
On the president's orders, income tax which was suspended in 2009 was re-instated this financial year sparking off public outcry from private schools across the board.
Meanwhile Lucima decried governments' absent role in intervening on delivering quality services to citizens especially in the health and education sector.
"The state of education and health in our country is alarming. We need a quick solution to ensure a quality basic life for our people who are not as over zealously ambitious for wealth as public officials but need a modest and decent life equally," raged Lucima.
Bossa, on the same, cited the root cause of a depleted service delivery system as a miss conception of privatization.
"The NRM government thinks privatization is total absconding of state obligations. This explains why they even have the guts to sale off parts of Lake Victoria waters. This mindset in my opinion means we should not have a government at all," the UPC stalwart further noted.