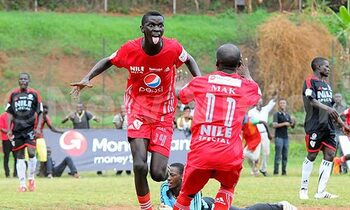 By Swalley Kenyi

Nile Special University Football League

KU 0 Nkumba 1

Wednesday

Makerere 3 UMU 2

Thursday

Ndejje v KIU

Joshua Lubwama scored a brace as Makerere University beat visiting Uganda Martyrs University (UMU) 3-2 at Makerere main grounds on Wednesday.

Lubwama put his team in the lead in the 26th minute before doubling the score line in the 66th minute.

Julius Mugema then scored the third goal in the 78th minute. Alex Katumba notched the first goal for Uganda Martyrs before Seth Omoding's own goal in the 85th minute improved the score line. Makerere's Dan Kasoma won the MoneyGram man of the match accolade.
true
A Uganda Martyrs University players attempts to dribble past a Makerere University player

The win puts Makerere on top of group A with six points from wins against Mbarara University of Science and Technology.

On Thursday, Ndejje host Kampala International University.

Ndejje University students on the football team hope to use their Nile Special University Football League fixture against Kampala International University today to improve their chances for bursaries at the end of the semester.

The two sides managed a draw at Ndejje before KIU picked a win in Nsambya last season. But in 2013 KIU managed a 3-1 in Ndejje.