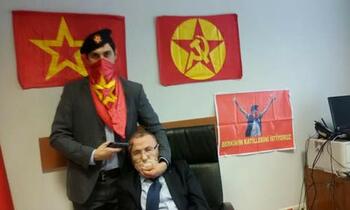 ISTANBUL - Turkey on Monday blocked access to Twitter, Facebook and YouTube  over the publication of images of a Turkish prosecutor killed by leftist militants during a hostage standoff last week.

The online sites were inaccessible for many users in Turkey, with the Hurriyet newspaper saying that service providers got an order from prosecutors to block those three internet giants as well as other websites.

The authorities set a deadline of four hours for Twitter, Facebook and YouTube to remove the offending content.

Tayfur Acarer, head of country's telecommunications authority (TIB), told Hurriyet that only Facebook had complied with the deadline and access to the social network was restored accordingly.

YouTube.com ran the text of a court ruling on its site saying an "administration measure" had been implemented by TIB.

Hurriyet said the order blocked a total of 166 websites which published the images, including Facebook, Twitter and YouTube.

A man holds a portrait of killed prosecutor Mehmet Selim Kiraz during a funeral ceremony outside the Eyup Sultan Mosque in Istanbul on April 1, 2015, a day after Kiraz was killed on in a bloody hostage standoff at Istanbul's courthouse. Turkish authorities on April 1 rounded up over 30 suspected members of the radical leftist group the Marxist Revolutionary People's Liberation Party-Front (DHKP-C), behind a bloody hostage standoff that left a top Istanbul prosecutor dead and shocked the country. AFP PHOTO / OZAN KOSE
Publication of any material related to the hostage standoff amounted to "terrorist propaganda" inciting people to "hatred and violence" and disturbing the public order, the court ruling read.

The ban was widely circumvented as well as mocked by many of Turkey's almost 12 million Twitter users, with one user named @BinaShah writing: "Come Turkey, and disconnect (possible new tourism slogan)."

Twitter also wrote on its @policy account: "We are aware of reports of interruption of our service in  #Turkey and we are working to restore access for our users as soon as possible.

The hashtag #TwitterisblockedinTurkey quickly made it to Twitter's top world trending topics. 
Relatives of senior Istanbul prosecutor Mehmet Selim Kiraz react on April 1, 2015 in Istanbul during a funeral ceremony for Kiraz, killed the day before after being held at his offices by leftist militants in a hostage drama, inside the courthouse where the hostage taking took place. Kiraz had been investigating the politically-sensitive case of a teenager who died of injuries inflicted by police during anti-government protests in 2013. Turkish authorities on April 1 rounded up over 30 suspected members of the radical leftist group behind a bloody hostage standoff that left a top Istanbul prosecutor dead and shocked the country. AFP PHOTO / OZAN KOSE

Prosecutor Mehmet Selim Kiraz and his two captors linked to the Marxist Revolutionary People's Liberation Party–Front (DHKP-C) were killed after a shootout at a courthouse in Istanbul last Tuesday.

The DHKP-C had published pictures showing one of the militants -- his face concealed by a scarf with the group's red and yellow insignia -- holding a gun to the hostage's head in the prosecutor's offices.

The images were circulated on social media while the siege was going on and were published by several Turkish newspapers as well as news websites.

A day after the standoff, Turkish prosecutors launched a probe into four newspapers for disseminating "terrorist propaganda" after they published the controversial images.

No such freedom anywhere in the world

Turkey's presidential spokesman Ibrahim Kalin said on Monday that the bans were "to do with the publishing of the prosecutor's picture", describing it as "unacceptable".

"What happened in the aftermath is as sad as the incident itself... There is no such freedom anywhere in the world," he told a news conference in Ankara.

European Parliament member Marietje Schaake of the Netherlands took to Twitter to condemn the ban as "another disproportionate response restricting press freedom."

Prime Minister Ahmet Davutoglu had caused controversy after he revealed he had personally denied accreditation to the funeral of Kiraz for media organisations who had used the image of the captive prosecutor.

"Freedom of the press is as important as mourning and respect. Freedom of the press is as important as not playing into the hands of terrorist propaganda," Davutoglu said.

President Recep Tayyip Erdogan and the ruling Justice and Development Party (AKP) have been repeatedly criticised for using court orders to block critical websites, topping a Google table for content removal requests.

Last year the search engine also accused Turkey of intercepting its Internet domain, redirecting users to other sites.

The government blocked Twitter and YouTube in March 2014 after they were used to spread a torrent of audio recordings implicating Erdogan -- then premier -- and his inner circle in an alleged corruption scandal.

Turkey's parliament last month approved legislation to tighten the government's control over the Internet by allowing it to block websites without prior judicial authorisation, sparking outrage both at home and abroad.

Erdogan has also made no secret of his disdain for social networks, comparing them to a "murderer's knife" and once famously vowing to "eradicate" Twitter.

AFP