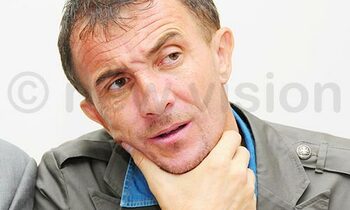 By James Bakama

It first seemed like a joke. That it was coming shortly after April Fools ' Day, was yet more reason for me not to believe what I was reading.

But there it was in a blaring headline: "Micho warns Pirates of URA pitch disaster."

Cranes coach Milutin Sredojevic was giving Orlando Pirates tips ahead of their CAF Confederation Cup encounter against URA!

The story in South Africa's leading football website KickOff.com went on to highlight what awaited Orlando Pirates at Namboole.

In terms of soccer espionage, I must say Sredojevic, or Micho as the Serbian tactician is popularly known, did a good job in arming Pirates.

He tipped the visitors on critical points of URA's strengths and weaknesses.

These included what he described as a disastrous pitch, a motivated but injury-hit URA and absence of the hosts's top marksman.

Micho was not yet done. He also prepared the visitors on what kind of crowd to expect.

"What will however suit Pirates is that the stadium will not be full as URA don't have a huge following like KCCA, SC Villa and Express," Micho assured the visitors.

"Some of the people in the stands will actually be there just to catch sight of all the Pirates players that they always see on television and not really as supporters of URA."

That is what KickOff had for its readers. We might never know how much more Micho told his former club.

What however matters most now is that URA is out, Pirates, who were understandably confident from kick-off, have progressed and Micho retains his job as Cranes coach.

One of the things brought out in all this, is the question of where Micho's allegiance lies.

Should he have been arming his former club or URA?

It would be interesting to know what tips Micho had for the tax men.

If there is anyone who should be showing serious commitment to not only the national team but also the clubs that feed the side, it should be Micho.

But as it turns out, he seems to be more interested in arming the opposition.

That similar questions were recently being asked after reports that he was in talks with a Sudanese club, raises even more questions on whether Micho has Uganda at heart.

Is it therefore surprising that most Ugandans were not happy with last week's renewal of Micho's contract?

Micho in his initial two years as national coach, not only failed to lift Uganda to the big stage but also couldn't maintain records set by his predecessors.

This is therefore not supposed to be the time for question marks on Micho's allegiance.

If there is anyone who should be doing everything to impress Uganda, it should be Micho.

This however seems not to be the case.

So, how can we trust Micho for another three years?
RELATED STORIES:

Magogo defends Micho over Cranes' woes