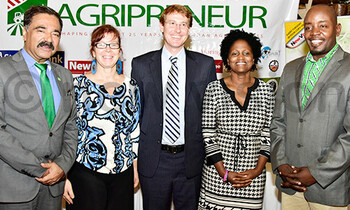 By Faridah Kulabako
UGANDAN farmers have been urged to capitalize on organic agriculture and improve packaging in order to tap into the United States' massive organic agriculture products market, estimated at about sh87.7 trillion($30b).
Speaking to media ahead of the Generation AgriPreneur Expo slated for April 21-22 organized by the American Chamber of Commerce (AmCham) Uganda, the event chairperson Meg Jaquay said there is a growing market for organic agricultural products in the U.S, which Ugandan farmers should take advantage of to boost exports.
It should be noted that while Kenya and Tanzania exported goods worth $389.5m (about sh1 trillion) and $114m (about sh314.4b) to the U.S in 2012, respectively, Uganda's exports were estimated at only $34.5m (about sh95.1b).
In 2013, Uganda's exports to US were estimated at $47m (about sh129.6b) while U.S exports to Uganda during the year were estimated at $125m (about sh344.7b).
"Organic food is going to be the next big thing so farmers should not deviate from growing organic products because that's where money lies," Jaquay who is also the Vice President of the American Chamber of Commerce (AmCham) Uganda and a certified organic exporter said.
Organic agriculture is a production management system which promotes and enhances agro-ecosystem health including biodiversity and biological cycles and it prohibits the use of synthetic inputs such as genetically modified seeds, fertilizers and pesticides.
Sales of organic products in the United States jumped to $35.1 billion in 2013, from the previous year's $31.5 billion, according to the Organic Trade Association (OTA) survey on the organic industry.
The two-day AgriPreneur expo to be held at the Uganda Manufacturers' Association (UMA) showground, Lugogo seeks to among others interest Ugandans to pursue agriculture as a career and facilitate partnership between American investors and their local counterparts.
The exhibition will showcase the importance of managing all aspects of agribusiness from seed to supermarket shelf, under a formal business model to enhance farm yields, improve post-harvest handling and production quality challenges.
It will also address standards for improved profitability, offer financing options for the complete value chain in order in order to stimulate US trade for the agriculture sector.
The AmCham Uganda President Abhay Agarwal said Uganda has huge agricultural potential that can be exploited to increase farmers' incomes and propel economic development.
"Agriculture should not be about subsistence farming; people should start looking at it as a business," Agarwal, said at a media briefing at Tamarai Restaurant in Kampalay.
He added: "Today all crops are cash crops especially if they are organically grown. Uganda's future lies in fully harnessing its agriculture potential."
The acting U.S deputy Ambassador to Uganda Michael Newbill said agribusiness is key to spur Uganda's economic growth, increase trade volumes and attract more foreign investment.
He added that the Expo will help promote stronger commercial ties between Uganda and the U.S in the agribusiness sector and unlock Uganda's considerable agricultural potential.
The expo which will bring together 12 American agripreneurs is co-sponsored by Vision Group, Stanbic Bank, Mukwano Group of Companies, Veritas Investments, Pearl Dairy, Dentsu Aegis Network, Delta Airlines, Uganda Manufacturers' Association and Jubilee Insurance.
Vision Group Head of Marketing and Communications Susan Nsibirwa said: "At Vision Group, we recognize the importance of agribusiness as a key economic activity in Uganda.
"Through our Harvest Money Pullout, we have been pushing for growth of the sector by profiling success stories and focusing on key issues in the sector. Last year, we took this step further by introducing the Best Farmers' Competition, an initiative that seeks to reward farmers across the country. The partnership with AmCham is yet another opportunity for us to support the growth the sector."
The exhibition will be attended by key stakeholders including food and beverage companies, agribusiness input suppliers, retailers and distributors, packaging companies, farmers' associations, certification and inspection agencies, industry organisations and associations, investors and financiers among others.