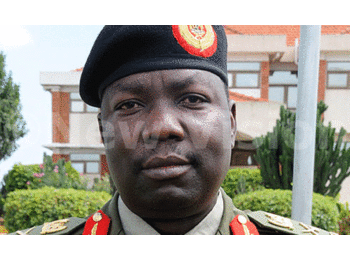 By Cecilia Okoth

African armies should to tackle terrorism from its sources if they are to rid the continent of the vice, prevent future attacks and enhance safety, a senior army officer has warned.

Addressing 35 senior military officers drawn from seven countries in Eastern and Southern Africa early this week, Lt Gen Charles Angina, the deputy Chief of Defense Forces (D/CDF) said there was need to dismantle bases of terrorist cells that have always been used as launch pads for several attacks in various countries.

The army officers from the Tanzania Command and Staff College-Arusha were meeting at the Uganda Peoples Defense Forces (UPDFs) Chieftaincy of Military Intelligence (CMI)  Headquarters (Mbuya) on a study tour to among others chat a way forward on how to combat terrorism in both regions.

"We are pleased with your choice of Uganda for your study tour. It's important we start learning right from our immediate people who are indeed most often very critical to us and then later we can learn from others who may be a little far," Angina said.

Led by Brig Alfred Kapinga from Tanzania People's Defense Forces (TPDF), the students drawn from Tanzania, Kenya, Namibia, Zimbabwe, Burundi and Rwanda were joined in the discussion by their Ugandan counterparts from the CMI; Chieftaincy of Training and Recruitment; Chieftaincy of Policy and Planning and Chieftaincy of Political Commissariat.

Speaking during a brainstorming session, Angina said there was need to tackle terrorism from the source, preferably combining a multinational and multidimensional approach like the one being used against the Al-Qaeda linked Al-Shabaab in Somalia and is paying off.

Several countries in the Eastern African region, Uganda inclusive have suffered terrorist attacks in the past decade or so, many of them masterminded by the Al-Shabaab who claimed responsibility July 2010 twin terror attacks in Kampala that left close to 80 people dead and scores maimed and injured.

The same Al-Shabaab has in the recent past stepped up their attacks in the neighbouring Kenya.

The African Union (AU) in 2007 following a United Nations resolution decided to deploy a multinational force in Somalia on a peacekeeping mission under the auspices of the African Union Mission in Somalia (AMISOM), with Uganda taking the lead.

The mission has since changed to peace enforcement which has seen vast swathes of Somalia being liberated from the Al-Shabaab by the peacekeepers and normalcy return to many parts of the hitherto war torn country.

Uganda has more than 6200 soldiers taking part in the mission in Somalia that has a total of six troop contributing countries (TCCs) that include Burundi, Djibouti, Kenya, Ethiopia and Sierra Leone.

At the same function, the deputy Chief of Military Intelligence Col. Herbert Mbonye noted that that in the recent past, the major terrorist attacks in the East African region were sprung from Somalia which explains the joint offensive against the militia in Somalia, especially by countries from the region.

He further noted that Uganda is successfully handling the matter of terrorism because it identified that terrorism is a battle of ideas that necessitates among others countering extremism through mobilization and effective use of the institutions of the state such as the Local Council (LC) system.