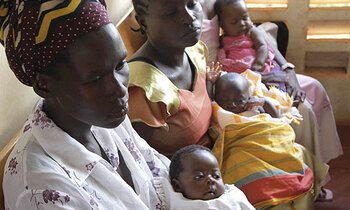 PARIS - European researchers on Wednesday said they had identified how the malaria parasite sticks to blood vessels, a finding that opens up new targets for drugs to protect children who are the biggest victims of the disease.

Plasmodium falciparum, the deadliest malaria parasite, grows in red blood cells.

It adheres to the wall of blood vessels to avoid being swept by the bloodstream down to the spleen, where it would otherwise be destroyed.

The binding trick has been known for more than a century, but how it is done has remained unclear.

A first insight came last year, when a lab team pointed the finger at a protein on the parasite called PfEMP1.

The new study, published in the journal Nature, has taken things further by looking for the docking point where PfEMP1 latches a hold on the blood-vessel lining.

A team led by Louise Turner at the University of Copenhagen screened 2,500 profiles, but only one provided a fit: a receptor called endothelial protein C, or EPCR.

To check whether the hunch was right, the researchers looked at parasites taken from 15 children in Tanzania who had fallen ill with severe malaria, and confirmed the association with EPCR.

"It was true eureka moment," said fellow researcher Thomas Lavstsen, in a press release issued by the university.

"Under normal conditions, ECPR plays a crucial role in regulating blood clotting inflammation, cell death and the permeability of blood vessels.

"The discovery that parasites bind and interfere with this receptor's normal function may help us explain why severe symptoms of malaria develop."

The new findings will help pharmaceutical engineers target the parasite's binding mechanism, said Matthew Higgins of Oxford University.

"We want to know exactly which bits of the parasite protein are needed to bind to the receptor in the blood vessel wall. Then we can aim to design vaccines to drugs to prevent this binding."

In 2010, an estimated 219 million people were infected with the disease and some 660,000 died, most of them African children aged under five, the UN's World Health Organisation (WHO) said last December.

A study published in the Lancet in February 2012 said the global death toll was likelier to be around 1.2 million a year.