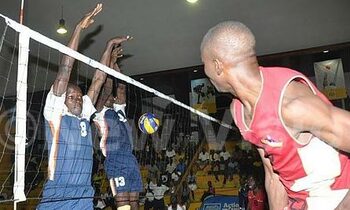 By Swalley Kenyi

Nemostars volleyball club put up a better fight in their third match of the Men's African Volleyball Club Championship on Monday only to lose in a decider in Sousse, Tunisia.

The Ugandan Championship winners forced neighbours APR of Rwanda to a decider which they lost by only three points.

Nemostars had come from two sets down 25-19, 25-12 to equalise after 11-25, 24-26 but lost the decisive set 15-12.

Earlier Nemostars had lost to Egyptian champions Al Ahly in straight sets and 3-1 to Espoir of Ivory Coast. Their next encounter is against Borij Bouarirj (Algeria) on Wednesday.

"It's a great honour first of all to know that we will step on court to play against the finest teams on the continent when it comes to clubs volleyball," Nemostars captain George Aporu said.

Nemostars are in pool C alongside Al Ahly (Egypt) APR (Rwanda), Borij Bouarirj (Algeria), Espoir and GSU (Kenya).

"It's a fair pool if you asked me," coach Joseph Opio-Ecodeu has insisted about the opponents.

Uganda's second representative at the continental championship KAVC is not any better having lost in straight sets to Kenya Prisons and 3-1 (25-19, 21-25, 25-19, 25-21) to Ahly Beni Ghazi of Libya so far.

KAVC is in Pool D with Setif (Algeria), Prisons (Kenya), Support (Zimbabwe), Smouha (Egypt), Ahly Beni Ghazi (Libya).

The competing teams are divided into four preliminary pools where the top two in each proceed to the quarterfinal, while the third and fourth ranked teams play for the 9 to 16 places on the overall standings.

After the losses the KAVC and Nemostars are now fighting for their overall standings after the end of the games.
RELATED STORIES:

Nemostars face expulsion from volleyball league