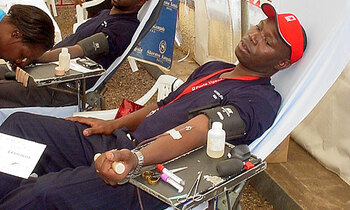 By John Masaba and John Semakula

When 18-year-old Peruse Namiiro, a resident of Waluga Village, Mukono, went into labour last Monday, she did exactly what her nurses had advised her to do — rush to hospital immediately.

Upon arriving at Katogo Health Centre IV with her husband, Musisi Majara, the medics were ready to attend to her. However, she was diagnosed with a condition that they couldn't handle. Namiiro was referred to Kawolo Hospital, 22km away.

Majara says he hired a bodaboda but by the time Namiiro arrived at Kawolo Hospital, she was bleeding profusely and was exhausted. She delivered a baby boy, but it was dead.

Namiiro needed blood transfusion but the doctors told Majara that there was no blood at the hospital.

They told him to go to Mulago Hospital, another, 42kms away! "My wife died at Namanve, before we could reach Mulago," Majara sadly narrated.

Majara's wife who was buried last week in Nyenga, is one of the victims of an acute shortage of blood which has hit the country over the last few weeks.

Dr. Joshua Kiberu, the in charge of Kawolo Hospital, says the hospital has been running without blood for long and all patients in need of transfusion are referred to Mulago.

In Jinja, the situation is not any better. According the hospital, on average, 12 patients are referred to Mulago Hospital daily for blood transfusion.

Dr. Michael Osinde, the director of Jinja Hospital, said everyday, at least five children die due to the blood shortage. The casualty ward and maternity ward are also affected, he said.

Dr. Balina Nseko, the hospital's deputy director, said supply of blood to the hospital has been erratic since the year began.

However, he explained that the hospital received some blood on Wednesday which temporarily relieved the shortage. The hospital needs at least 70 units of blood per week, but the hospital had about half of that volume.

Nseko said this is the worst blood shortage at the hospital. He said Jinja Hospital receives patients from about 10 other districts.

At Mulago Hospital, authorities said they had a similar shortage two weeks ago. Mbale Regional Referral Hospital too has been struggling with shortage of blood for the last one week.

Sources at the hospital said from last week, most patients visiting the hospital for blood services were being turned away, with only one option — travelling to Mulago more than 220km away.

According to a source, only emergency cases are being given attention. The source said the hospital is responsible for the blood supply to 36 health units in the eastern region.