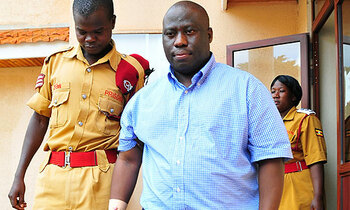 By Edward Anyoli     

A Court assessor has asked court to acquit Geoffrey Kazinda the interdicted principal accountant in the Office of the Prime Minister (OPM).

Anthony  Oumo, Wednesday who gave  his  opinion  before  Justice  David Wangutusi of  the  Anti - Corruption  Court ,  asked court to acquit Kazinda   on grounds that  the evidence  adduced  by the   prosecution was not sufficient enough  to  convict  him.

"My lord it is my humble prayer to advise this honourable court to acquit the accused of all the charges," Oumo said.

The court may however decide to agree with an assessor's opinion   to acquit or convict the suspect.

Oumo said the documents the prosecution relied on as evidence were not recovered in Kazinda's house. He said even the people who live in the house where the documents were allegedly recovered were never brought to testify as witnesses.

The assessor said there was no evidence to show that Kazinda while employed by the government in the office of the Prime Minister as a principal accountant did an arbitrary act prejudicial to his employer.

Kazinda is facing charges of abuse of office, forgery and making document without authority. It is alleged that Kazinda  between November 2011 and May 2012 at UCB zone in Bukoto, being employed  by the government  as principal accountant did an arbitrary act, when he forged signature of  Bigirimana the permanent secretary in the  office of the Prime Minister.

Prosecution  led   by  Paul Lakidi   said that  Kazinda  being employed  as Principal accountant  in the  Prime Minister office  did an arbitrary act  when he  kept  in a private residence  computer generated  letters and  cash withdrawal authorisation  forms bearing forged signature of Bigirimana , Kazinda  denied the allegations.

Court will deliver the judgment on  June 19.