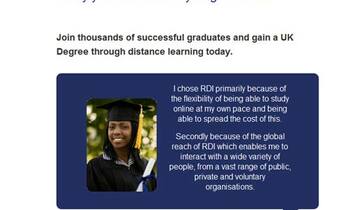 By Joyce Nyakato

When you click on many a website, you are most likely to be bombarded with adverts promising a quick and easy degree. Sometimes the name of the university seems to echo that of a prestigious University. Some students risk being duped. But keep your eyes open.

However, with the right research done, if you come across a good online degree, you will reap dividends from it. Coming to this decision between an online degree and an on-campus degree, has become more common nowadays.

The music industry, publishing, transportation, and retail – they have all experienced the great technological disruption. Now, it is education's turn. Distance learning is increasingly popular and one of the reasons is the growing number of free courses being offered online.

Over the past couple of years increasing numbers of universities across Europe and the US have set up web-based resources known as Massive Open Online Courses (MOOCs). These MOOCs make recorded lectures, course materials and academic discussion forums freely available to anyone who wants to use them.

But in Uganda, this comes with the realisation that National Council of Higher Education has started accrediting institutions; which run such online programs.

Some universities use free courses not only as a shop window for the other courses they offer, but also as a way of sharing good practice with other institutions, experimenting with new technology and of seeing what does and does not work in distance education.

This is important because the availability of higher bandwidths and progress in developing effective systems of online assessment, combined with increasing demand, means that paid-for distance learning is also booming.

According to the Higher Education Statistics Agency, the number of distance learning students registered at UK institutions grew from 238,800 in 2006/07 to 271,445 in 2010/11.

Bricks and mortar universities no longer have the capacity to deal with the number of students there are going to be in future, so online learning has to be the way to go.

Apart from inadequate staff, there is a serious problem of deteriorating physical infrastructure in most universities, especially public ones; due to the exploding enrolment in universities. The rapid enrolment is not matched a corresponding increase in physical infrastructure.

The most recent studies show that the lecture rooms/student ratio for Makerere is 0.32sq.m; 1.81sq.m for Kyambogo; 1.85sq.m for MUST; and 1.26sq.m for Gulu. MUBS is at 0.23sq.m.But all these fall short of the NCHE ideal of 2.5sq.m per student; implying all the universities have terribly congested lecture rooms.

Dr John Muyingo, the state minister for higher education says that online degrees are increasing in the fast evolution of the information, communication and technology. He explains that the advantage of doing an online degree, is keeping your job as you study compared to the traditional methods where enrolling for studies may impact negatively on someone's work.

In Uganda, we have some online courses that are affiliated by learning partners abroad. But, not all of them have foreign affiliations.

One of the online degree producers in Uganda include Management and Accountancy training (MAT) in Uganda; which offers three online degree programmes which provide a great flexibility for students who want to do the degree at their own terms.

"By choosing to go to study online other than having contact with lecturers, you will be allowed to do a degree on your terms," explains Jeff Thompson, the Managing Director of MAT. Usually, the courses are formulated in a module, which means you can undertake a given number of modules at a time, till you graduate. For every level that you finish, you get a certificate or a diploma like in the case of MAT.

Those who have objected to the idea of online degrees say that there is less personal interaction with the lecturers, as compared to the traditional way of university teaching. There is a myth that since you are not required to be on campus, online students may feel disconnected from their own institutions. This would include missing out on on-campus activities and campus associations.

However, Jean Katongole, the head of administration at MAT explains that that the world is changing; which may necessitate people working while studying.

So an online degree provides for them an ability to juggle between studies and their work. Doing an online course with an approved learning partner usually links students. For instance, on completion of the degree, students who can afford travel to abroad to attend their graduation ceremonies. However, even those who cannot attend the ceremonies, get their qualification papers delivered to them.

Dr Muyingo advises that whoever is looking for an online degree should do so in a field that is not highly practical. For example, some medicine degrees may require students to go to campus and participate in the practical aspects of the course.

If students cannot afford being at campus physically, they drop out, after wasting so much money. "There needs to be guidance before people can embark on any online degrees," he advises.