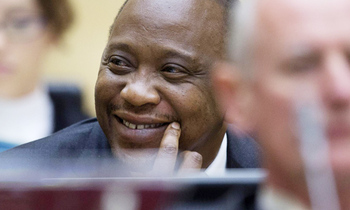 UN diplomats on Thursday criticised Kenya's rights record, citing a draconian new security law and the lack of cooperation with an international probe into post-election violence.
But Kenya's Attorney General Githu Muigai told the UN Human Rights Council in Geneva that his country was committed to protecting the rights of its people.
"Kenya's march towards the creation of a human rights state and society is irreversible," he said during a so-called Universal Periodic Review, which all 193 UN countries must undergo every four years.
Diplomats hailed a new constitution drawn up in 2010 and seen as one of the most progressive in the world, but warned that recent national security laws, introduced following waves of attacks, could lead to rights abuses.
The law hands Kenyan authorities sweeping powers, including the right to hold terror suspects for nearly a year without charge, and threatens journalists with up to three years behind bars if their reports "undermine investigations or security operations relating to terrorism".
US representative Keith Harper warned that "elements of new counter terrorism legislation, that appear to undermine constitutional rights."
He also expressed concern "about reports of excessive force and unlawful methods used by security forces undertaking counterterrorism efforts."
"Upholding human rights and democracy is one of the most effective ways to bolster security," Harper said.
Britain's representative said that although Kenya was seeking the best way to fight violent extremism, "winning the trust of communities is a critical part of this fight."
"Violations of human rights risk fuelling resentment and recruitment to the extremists' cause," she told the council.
Muigai said the new legislation was making the rounds through Kenya's court system, adding: "We believe that the laws we have amended have been amended in a manner consistent with the constitution."
Other diplomats meanwhile accused Kenya of not cooperating fully with the International Criminal Court, in a cases linked to the country's 2007-08 post-election violence, the worst in its history since its 1963 independence from Britain.
More than 1,200 people died and 600,000 were displaced due to the unrest.
'Kenya did a good job'
Switzerland's representative denounced Kenya's "refusal" to cooperate and urged Nairobi to "cooperate fully with the (ICC) and protect witnesses."
Muigai insisted though that such criticism was baseless.
"Our relationship with the ICC is much misunderstood," he told the council.
"The narrative that Kenya has in any way impeded the work of the ICC is most regrettable, because it is untrue," he said.
Charges against Kenyan President Uhuru Kenyatta were dropped last month after the ICC prosecutor was ordered to strengthen or abandon the case.
Kenyatta maintained his innocence throughout and reacted by saying his conscience was "absolutely clear" regarding the post-election killings.
The Kenyan attorney general later brushed off allegations of witness intimidation, telling reporters that Nairobi had extended full cooperation to the ICC.
"When a final chapter is written... it will be that Kenya did a very good job in a very unique situation," he said.
AFP