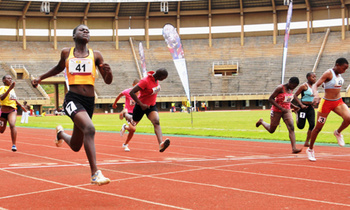 By Norman Katende
National Youth Championships
100m Claire Batyo (Nalinya Lwantale) 13.09
200m Claire Batyo (Nalinya Lwantale) 27.04
400m Scovia Ayikoru (Serere) 58.79
800m Maureen Nandago (Standard) 2:14.06
1500m Rachael Chebet (Alpha) 4:30.78
3000m Stella Chesang (Alpha) 9:31.34
Shot-put: Peace Mirembe (Ndejje) 12.68
Javelin: Desire Akello (Nampunge Community) 32.00
Boys
100m Raphael Obbo   (Ndejje) 11.18
200m Robert Obbo (Serere) 22.96
400m Rashid Etiau (Serere) 48.6
800m Joseph Uma (Iganga TVSS) 1:56.09
1500m Joshua Cheptegei (Police) 3:43.92
3000m Abdallah Mande (Police) 8:21.42
5000m Abdallah Mande (Police) 13:47.92
Shot-put: Hilton Odong (Serere) 14.66
Javelin: Anthony Opiro (Serere) 47.51
Long Jump: Felix Watmon (Gombe) 6.76
Triple Jump: Felix Watmon (Gombe) 14.42
Discus: Hilton Odong (Serere) 35.39
EIGHT athletes have qualified for the IAAF World Youth event due in Donetsk, Ukraine July 10-14 after hitting the qualification mark at the national youth championships.
At the national youth event that took place at Namboole, pacesetter Abdullah Mande shared the lead with Peter Naibei and Moses Kurong, prompting coach Benjamin Longiross to remind them that they were not running for position but time to qualify.
After the half way mark, they took heed and upped the pace as Kurong broke off to take the lead, but with 700m to go, Mande took charge, out-sprinting him and stretching the lead and though Kurong chased, Mande clocked 8 minutes 21.42 seconds to win.
true
Kurong crossed the finish line in 8:22.76 with Naibei finishing third at 8:23.45 while the top eight that included William Kakuru, Elly Chelangat, Benson Cheboriot, David Kwemoi and Michael Cherop all run below the qualifying mark of  8:48.00.
The national athletics federation technical committee head Faustino Kiwa revealed they will have more competitions so as to select the best.
There were more qualifiers as the top three in the boys' 1500m as Joshua Cheptegei led Peter Naibei and Mande Stephen to all run below 4:01:00 while Rashid Otai (48.6) and Stephen Otieno (49.3) finished inside the qualifying mark of 49.8.
Africa Youth long jump silver medallist Felix Watmon failed to hit the qualification mark, jumping 6.76m which was short of the 7.20m mark, though he is confident that he will repeat the jump.
true
"I will try my best and will hit the mark again," said Watmon after his jump.
In the women's category, Rachel Chebet (4:30.78) and Edna Kasubo (4:34.24) hit the 1500m qualifying mark of 4:36.00 with Stella Chesang (9:31.34) and Rachael Chebet (9:38.06) also ran under the qualifying time of 9:53.00.
The National Youth Championships were prepared to help the youth qualify for the biennial games, though they can also be allowed to qualify via the national trials before the international qualification deadline of July 1st.
Action on the athletics calendar continues this Saturday with the 3rd national track and field trials at Namboole.