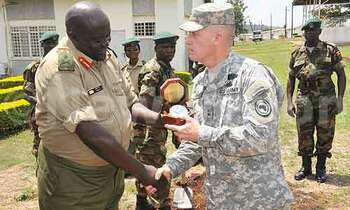 By Vision Reporter

The Senior Command and Staff College, Kimaka in Jinja is now affiliated to Makerere University.

According to the defence ministry permanent secretary, Rosette Byengoma, the courses offered by the college after its affiliation to Makerere University will be equated to a masters of arts in defence and security studies.

The Memorandum of Understanding between Makerere University and the defence ministry to formalise the affiliation was signed at the ministry headquarters in Mbuya on Friday.

Makerere University Vice-Chancellor Prof. John Ddumba Ssentamu signed on behalf of the university, while Byengoma signed on behalf of the defence ministry.

Byengoma said the development is a milestone in the defence's vision of professionalising and modernising the army, a statement from the defence ministry read.

She said through this arrangement, the UPDF will achieve qualitative career development of its officers. "It is a milestone that will elevate the status of the academic programmes offered at the college," she added.

"The accreditation and affiliation will enhance our troop's visibility in the labour market and provide opportunities, even after our officers retire from active military service. This will certainly enable a seamless re-integration into society," Byengoma said.

 Emerging challenges on the global horizon demand a new thinking that is strategic, informed and qualitatively
responsive," she said.

The commandant of the college, Lt. Gen. Andrew Gutti, said the college was established in 2004, with the objective of realising Uganda's Vision for defence transformation based on modern and professional defence forces as well as a strong civil defence partnership.

Deputy Chief of Defence Forces of the UPDF Lt. Gen. Charles Angina, who represented the Chief of Defence Forces Gen. Katumba Wamala, said the College trains students from East Africa and beyond.

Ddumba offered the UPDF more opportunities from which the army could benefit. He said the university has skills and knowledge in other fields beneficial to UPDF.

These, he said, are military geosciences, early warning systems, disaster management, ICT, engineering, economics, management, administrative sciences, and research methodology.