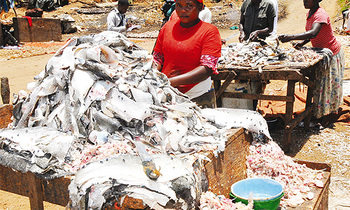 By Gerald Tenywa

A stench wafting through the air not far from the remains of skeletons of fish and fish heads could be seen as misplaced garbage in a city. But that is not the case at Ggaba landing site in Kampala, where factory wastes of fish are collected, smoked and dispatched to people with low purchasing power. In the wake of export trade in fillet, Ugandans are feeding on discarded waste, overfishing and catching young fish that would have earned better revenue in future.

The In the shadows of the rusty iron-roofed houses at Ggaba landing site, is Beatrice Naku, a fishmonger.

After she was thrown  off the streets of Kampala, where she operated as a vendor, Naku has found support in a surprising place where wastes of fish are processed for export.

On the edge of Ggaba landing site is where the skin of the fish that is removed, together with the skeleton, ends up, as the fillet is packed for export.

Ironically, the waste that goes to Ggaba is referred to as fille, short for fillet. This, according to Naku, is her lifeline. Naku says the off-cut is sold to people who cannot afford fi sh.

She adds that soon, it may also go out of reach as neighbouring DR Congo is proving to be a favourable destination for Uganda's fish wastes.

"I do not get enough money out of this, but it helps me to stay afloat," says Naku. Due to lack of fees, Naku's children dropped out of school and joined her.

Meanwhile, Masitula Namirimu, a fishmonger for two decades, says Lake Victoria is like a generous mother who nurtures all. As a result, competition has become stiff with fishermen taking a smaller slice of the cake home each passing day.

According to Ruth Nankabirwa, the state minister for fisheries, the quantity and quality of the fish catches have declined. Six factories out of 20 have closed in Uganda in the last five years because the lake has run out of fish to sustain them.

"If people start catching immature Nile perch, you should not expect fi sh factories to stay in business," says Nankabirwa. According to the fisheries commissioner, Jackson Wadanya, the smallest size of Nile perch caught in Lake Victoria should be 20 inches.

He disclosed that a proposal was being discussed, to increase the size of the smallest Nile perch caught in the lake. "We want to protect Nile perch from excessive hunting," says Wadanya.

In the 1980s, the first fish plants were set up in Uganda. They proved so profitable and more factories were constructed in Uganda, Kenya and Tanzania, according to a World Conservation Union (IUCN) report, Rich fisheries-poor fisherfolk.

This, according to IUCN, connected Lake Victoria to the global economy. For decades, factories have been competing to secure raw material from the lake. In recent years, the factories have been closing, one after the other, due to cut throat competition.

Food insecurity

Currently, Ugandans are eating less fish. "Consumption of animal protein, including fish, has been discouraged by high and rapidly rising costs," states a report, A review of Agriculture, Food security and Human Nutrition Issues.
true
Officials from the fisheries ministry burning illegal fishing gear
This, according to nutritionists, is a blow to children, since fish contains omega 3 fatty acids that contribute to the development of the brain and intelligence.

Also, the acid is believed to reduce inflammation and lowers the risk of chronic illnesses such as heart disease, cancer, and arthritis. Such attributes of fish make it a popular part of menus in Europe and the West.

In Uganda, fish used to be cheaper than beef and chicken, but not anymore. Both fish and beef cost about sh10,000 a kg.

Management units created to monitor lakes

Kimbowa faulted the Government for failing to build the capacity of beach management units (BMUs). "The role of BMUs is bigger than policing or monitoring the lake. They are supposed to address poverty and sanitation," he says.

BMUs were created to reduce access to the lake, but this has been failed by weakness within the BMUs and meekness by the Government when it comes to law enforcement.

As a result, poverty is increasing among fishermen. The culture of not saving money among the fishermen is still persisting," according to Dirisa Walusimbi, a fish trader at Gaba landing site.

"The fish fetch good money nowadays, but most fishermen do not save for a rainy a day." However, a report by IUCN pointed out that the export trade also has gains. People in harvesting, processing and distribution of fish benefited greatly from the export of Nile perch.

The IUCN report states that there was additional employment on the lake for 180,000 people in Uganda, Kenya and Tanzania in the 1980s.

"Many people who had been employed or underemployed were able to obtain incomes at levels they had never experienced before," states the report.

Companies change marketing of fish

Namirimu says: "A lot changed with the coming of the fish companies. Most of the fish now is bought before it gets out of the water. Fishermen have contracts with the companies and drive most of the fish catches straight to the factory."

Previously, fish would keep on the vendors' stalls awaiting customers. Other fishmongers would prefer to either smoke or sun dry as a way of preserving it. All this, according to Walusimbi, is unnecessary.

"Fish has a short shelf life and because it is perishable, fishermen were not getting the worth of its value. The export market offers better money without delays in payment," he says.

In some cases, Walusimbi says companies give contracts to fishermen through brokers, to supply them with fish and pay in advance. They also provide incentives like gillnets for catching Nile perch. In doing so, the fishermen become patronised by particular companies, which they have to supply fish, come rain or shine.
true
Nile perch has become a money-minter to countries that share Lake Victoria
The good and bad side of Nile Perch introduction

Fifty years ago, a predator was introduced in the waters of Lake Victoria. Previously, the Nile perch occupied lakes Kyoga and Albert. It was introduced during the colonial era because most of the 400 species of indigenous fish were not considered commercial.

Today, more than half of the indigenous fish species are extinct, according to thereport by the International Union for Conservation of Nature. Its ecological disaster which is attributed to its predatory behaviour aside, the Nile perch has become a money-minter to Uganda, Tanzania and Kenya.

The catch increased from 30,000 in the 1970s to 550,000 tons in the 1990s and recent years.

Fish waste could be turned into lucractive bags and shoes

After removing the fillet, the remains could be used for making chicken and livestock feeds and other products such as bags, belts and shoes. The scales could make products like glue. The swim bladder (ennuni) is exported to China, where it used for medicine.

"The swim bladder is more expensive than the Nile perch," says Moses Mugisha, a trader at Ggaba. According to Mugisha, a kilo of Nile perch costs sh12,000, while the same amount of the swim bladder fetches sh400,000.

"This country is losing a lot of wealth in over fishing. The big mature Nile perch of 15 to 20kgs would fetch up to sh1m, if all its products are efficiently extracted," says Mugisha.

As a way out, the Government is proposing fish farming to boost the fish stock. Less dependence on the wild fish, according to fisheries state minister Ruth Nankabirwa, is part of the solution. She says the population is growing, as is the demand for fish.

"We are licensing cage fish farming in order to increase the volume of fish and employment."

Fish bans

Curtailing fishermen from fishing in a given period could revive the fish population, but sources in Government and civil society say a blanket ban on fish could cause problems.

"Fishermen will resist a blanket ban because they depend on fish for food and income and have limited options for survival," says Kimbowa.true

Others say it would be politically unpopular to seal off the lake. "Politicians have taken a populist approach to survive so they would not want chaos on the lake that would make them less popular."

Introduction of fish quotas for exporters would help minimise competition on the lake, but fish processors and exporters have a strong lobby that would fail such a proposal. "

If the Government has failed to monitor the undersized fish, how will it monitor quotas?" asks Kimbowa.

Creation of protected zones on the lake

Creation of marine parks, according to Achilles Byaruhanga, the executive director of Nature Uganda, would have gone a long way in protecting fish breeding grounds and ecologically rich areas.

"The Government should manage the lake resources together with the communities. The reducing stocks of Nile perch and the disappearance of fish species expose Government's failure in its stewardship role," Byaruhanga says.

With depleted stocks, Kimbowa says the Government loses revenue and the population has less protein-rich food such as fish.

Beach management units could be the foundation for the drive for poverty eradication and monitoring on the lake.

The Government should not abdicate from its marriage with beach management units.

"The Government knows that fisheries bring in foreign exchange. But the fisheries department is crippled by poor funding, which makes it hard for them to regulate activities on the lake," he says.