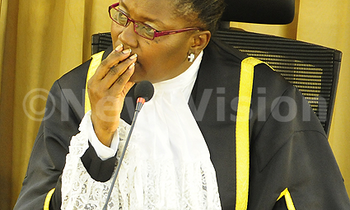 By Patrick Jaramogi

The Speaker of Parliament, Rebecca Kadaga, has asked government to increase its funding to gender related issues if the issue of enhancing women's livelihoods and income is to be realized.

Speaking at the launch of the 2014 monitoring report on the implementation of the Uganda National Action plan for UNSCR 1325, 1820 and the Goma declaration, Kadaga said less financing to women's related activities was hurting their empowerment.

"It is true much as Parliament has tried its best to advocate for increased funding to gender related aspects, implementation in form of funding from the executive has been limited," she said the launch held in Kampala.

Kadaga said she would use her position as speaker to continue lobbying government to increase funding to gender related activities.

She hailed the Center for Women in Governance (CEWIGO) for coming out with the report.

"The Coalition for Action on UNSCR 1325 calls on the government of Uganda and all stakeholders to prioritize financing of the UNSCR 1325, because it is critical for the advancement of women's human rights," said Kadaga.
The Coalition is spearheaded by the Centre for Women in governance (CEWIGO).

The above mentioned Security Council resolutions call for increased participation of women at all levels of de­cision-making at national, regional, and international level in mechanisms for the prevention, management and resolution of conflict; in peace negotiations and in peace operations. The resolution also demands for the protection of wom­en and girls from violence during armed conflict and in post-conflict situations.

Miria Matembe the former Ethics and Integrity minister and founder of CEWIGO said government needs to up funding to enable women and girls become self-reliant and empowered.

Joy Mukisa, CEWIGO acting executive director, noted that the conference was expected to generate discussions around the findings and enrich strategies for implementation of the recommendations.

 
She said CEWIGO would share the 2014 National Action Plan monitoring findings with various stakeholders on the progress Uganda has made in implementing this plan, the gaps, challenges and recommendations.