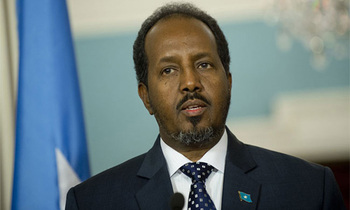 The president of Somalia, Hassan Sheikh Mohamud has congratulated the newly president-elect of Kenya, Uhuru Kenyatta.

This comes after Kenya's Supreme Court ruling on Saturday in which judges unanimously rejected a challenge from defeated candidate Raila Odinga that the vote was marred by rigging and technical problems.

The decision thus cleared the way for Kenya's richest man to take the top job in east Africa's biggest economy.

In a statement released on Saturday, President Mohamud expressed his optimism and belief in Kenya's new leadership.

"On behalf of the people and government of the Federal Republic of Somalia, I would like to convey my heartfelt congratulations on your election as the President –elect of the Republic of Kenya.

"I am confident, that with your inspired leadership, Kenya will go on to make progress in the years to come," he said.

"The outcome of the elections is indicative of the will and choice of the Kenyan general public entrusting you with their future."

The Horn of Africa leader said his country believes that the brotherly and friendly relations and cooperation that exist between his country and Kenya are bound to continue to expand into the future.

Odinga accepted the ruling by the Kenyan court, although he maintained that there were irregularities in the recent presidential elections.

Youths in Kisumu town – a stronghold of Odinga – battled with Police following the ruling by the Supreme Court.

Kenyatta follows his father Mzee Jomo Kenyatta – the founding father of Kenya – to the top of the country's leadership.

He is set to be sworn in as the east African nation's fourth president early April.