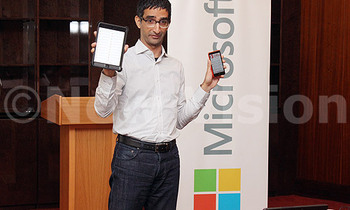 By Raymond Baguma                     

Ugandan Small and Medium Enterprises (SMEs) have an opportunity to use Microsoft's Office 365 online suite after the global software giant made it available in 18 African countries including Uganda.

The software package is exclusively available in Botswana, Ethiopia, Namibia, Tanzania, Uganda and Zambia.

This is in addition to other countries where it has been available since June last year which include Kenya, Nigeria and South Africa.

The entire suite of Office 365 packages has since last year been available in Angola, Cameroon, Cape Verde, Cote d'Ivoire, Ghana, Mauritius, Rwanda, Senegal and Zimbabwe.

Office 365 is Microsoft Office product line for consumers, businesses and educational institutions that is available in the cloud.

The suite includes office applications of Word, Excel, PowerPoint, OneNote and Outlook and enables easy sharing and editing of documents over the internet.

Office 365 helps improve productivity whether at home, in the office or on the go – perfect for the needs of modern consumers, businesses, public sector professionals and educational institutions.

"Cloud based software is the perfect solution for smaller organizations that can't always afford the level of sophistication they need in terms of software," said Marc Israel, the Office Division Group lead for Microsoft in West, East, and Central Africa and Indian Ocean Islands.

He added, "It provides enterprises with an affordable and flexible way to access technology that can drive their business forward, enabling growth in emerging markets."

In Africa, Small and Medium enterprise contribute to GDP growth and employment. According to figures available from the ministry of trade, the Micro, Small and Medium Enterprise (MSME) sector is the biggest employer and contributes about 20percent to Uganda's Gross Domestic Product (GDP).

The Office 365 Small Business Premium suite is designed for companies that employ between 1 and 10 people, providing access to Microsoft applications of up to 20 percent of an SME's software budget.

With the software suite, an SME can within 15 minutes have a domain, website, with email addresses and other functionalities.

Also, Office 365 has suites that offer larger companies additional functionality and scalability, cater for education institutions, with features to engage students in learning and assisting teachers, shareable classroom library of digital documents and group collaboration spaces for learning anytime and anywhere.
 
Related
Microsoft to tap $2-trillion Indian cloud market

Microsoft profit hurt by Nokia, but revenues jump