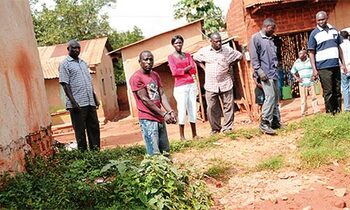 By Ronald Mubiru

The Police in Katwe have arrested a witchdoctor suspected to have murdered a two-month old child in ritual sacrifice.

Last week, Bukedde newspaper run the story of a man, Ali Mugerwa, who abducted his own child, Akram Mugerwa,in the dead of the night on December 8, 2011 and took him to witchdoctors for sacrifice in exchange for wealth.

On Saturday, Police, in coordination with Kyampisi Childcare Ministries arrested Teopista Nakakande and her helper Moses Kasiita from Ssekabusolo village in Mubende.

The Katwe Police Station assistant officer in-charge, Benard Odyek, commanded the operation that led to the arrest of the suspects. The Police found two shrines at Nakakande's home, though she denied knowledge of the child.

She said Mugerwa went to her place saying he wanted to go to Dubai to get rich.

Her helper Kasiita said he knew Mugerwa from way back because he always visited their shrine in Mubende but he denied ever traveling with him to pick a child for sacrifice.
true
(left-right) Kasiita and Nakakande after their arrest
Following his arrest last week, Mugerwa of Masajja B Kibira Zone confessed that a friend took him to Nakakande who in turn instructed him to get her body parts including ears, a tongue, private parts and blood to be used in the ritual.
He said he told the witchdoctor he had a two-month old son and she assured him that the child would be the ideal 'candidate'.

"She instructed a man to travel with me from Mubende at night and we bought chloroform which I laced with rice and gave to my wife so that I could abduct the child," Mugerwa made the chilling confession before the Police.
"We took the child but when they were cutting him up I took off because I was scared and I even never waited for the riches," he said.

After the confession, he led detectives to the spot where he claimed the child was murdered at Masajja near Daudi Musenza 's home, the area LCI chairman as irate residents demanded the police to hand over the suspects for lynching.

Akram's mother, Clare Kyalisiima, said Mugerwa had not been home for a week but returned with rice which he gave her.
She said she slept soundly but woke up in the dead of the night to find Mugerwa and her son missing, which prompted her to raise an alarm at daybreak.
Akram's dismembered body was discovered two days later in a bush. The case is recorded on file number CRB 8125/2011.