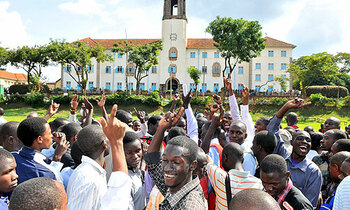 By Vision Reporter

Police on Monday deployed at Makerere University after students resumed their strike, protesting a policy which requires private students to pay at least 60% of their tuition fees in the first six weeks of the semester.

The 60% tuition policy was passed by the university council, the university's supreme decision making body in 2005.
Nonetheless, its implementation has triggered numerous strikes.

The university administration has however defended the tuition policy, saying it is aimed at enabling smooth running of the university and availing the necessary facilitation to conduct teaching and learning.

The office of the Academic Registrar has set March 8, 2013 as the deadline for students to comply with the policy.
But most students say they cannot meet the deadline due to financial constraints.

The Vice Chancellor, Professor John Ddumba-Ssentamu  last week on Monday requested the students' guild to write a petition to the Council detailing their grievances and proposing a way forward, which the student leaders did.