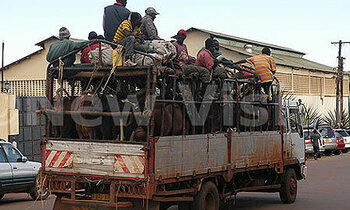 SUNDAY VISION
By Jackie Nalubwama
KAMPALA - At the city's main abattoir on Old Port Bell Road, the biggest slaughterhouse in Kampala, the smell of blood and cow dung are persistently offensive.
Media reports reveal that Kampala Capital City Authority (KCCA) has started the process to take over the abattoir from businessman Hassan Basajjabalaba, who had got a lease for it.
The reason behind the take-over is for KCCA to improve hygiene and safety. Yet, Buganda Land Board says the land belongs to Mengo and not KCCA.
However, going by the revelations of the state minister for animal industry, Bright Rwamirama, in future, the Government will close all abattoirs in Kampala and build new ones in major cattle-keeping areas.
 This means KCCA, Buganda Land Board and Basajjabalaba may be fighting only for the land because the days of the abattoir could be numbered.
Without giving timelines, Rwamirama told Sunday Vision that in future, all cattle will be slaughtered in their areas of origin and only the meat transported to Kampala.
The move is expected to reduce congestion in the city, lower the cost of transport, prevent travel stress and injury to cattle, as well as improve the quality of meat.
He said the Government has already built a state-of-the-art abattoir near Bombo, which is due to be commissioned next month.
"The Bombo abattoir is automated, has refrigeration and an emergency slaughter facility in case a cow arrives injured and needs to be slaughtered immediately," says Rwabirama.
The Government plans to establish other abattoirs in Nakasongola, Mpigi and Soroti.
Critics like Dr. Alex Mugisa of Uganda Society for Protection and Care of Animals will be happy to hear about the Government's plan. "A truck that loads 20 cattle can carry beef of 80 cattle," he says.
Dr. Mugisa has worked as a veterinary doctor at the city's main abattoir. He tells of harrowing tales of trucks arriving with exhausted cattle shortly before slaughter.
"From Mbarara to Kampala, a truck loaded with cattle takes five hours, during which time animals suffer from stress and injury."
true
The city abattoir at Old Portbell Road under row between KCCA and Buganda Land Boad over ownership. PHOTO/Enock Kakande
He says the ideal way to transport animals is to include stop-overs because they need to rest, eat and drink water so that the meat can be tasty and safe. But because that is costly, nobody does it.
Torture at the slaughterhouse
When animals arrive at the abattoir, the workmen force them (cattle) to move by beating, twisting their tails or pinching their balls. Sometimes the tails break in the process.
"Others opt to suffocate them with buveera (polythene bags) and the cattle react by standing up and moving out of the truck," explains Dr. Mugisa.
But meat traders like Abbey Kamya insist that an abattoir in the city is important because it serves the people. He prefers fresh meat to refrigerated meat transported from upcountry. Besides, he worries about the cost of refrigeration and transporting meat from upcountry.
He, however, concedes that cattle are mistreated during transportation and slaughter. For instance, four cows enter a slaughter stall at the same time, which means that they watch others being killed.
Eventually, human beings lose by mistreating animals because the meat becomes less tasty, looks less attractive and it goes bad faster.
Religious leaders also believe the fires of hell await those who mistreat animals.
"Animals are not supposed to be mistreated. Even the ones we eat are supposed to be killed without pain. They are not even supposed to see blood," says Hajji Nsereko Mutumba, the spokesperson of the Uganda Muslim Supreme Council.
Many plans, little action
While Dr. Mugisa hopes for action, he fears that there might be more talking than action. He remembers participating in formulation of the national Meat Quality Improvement Strategy, but to-date he does not see any concrete actions being taken.
At least for now the minister has given his word that the 'keep abattoirs out of Kampala' plan will be implemented.