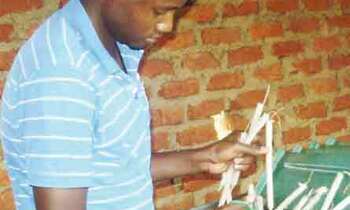 By Gloria Nakajubi

At 27 years old, Denis Muhwezi is financially stable ahead of his peers who are in mainstream employment. After graduating with a bachelor's degree in hotel management from Nkumba University, he got a job as a procurement officer in one of the hotels in Entebbe. He earned sh500,000 a month 
He realised the job was slowing down his dreams. However, he invested his savings in a candle-making machine. Since then, he has never regretted his decision.

"There are many things people want to achieve in life, but when one depends on a salary alone, it takes one longer than planned.

That is why I got my savings and invested in a candle-making machine," Muhwezi says. "I started this business three years ago from my home after a six-month course in Nairobi, where I attained a certifi cate in making candles, soap and other related products."

It was upon his return from Nairobi that Muhwezi purchased a candle-making machine at sh8m and started making candles under the brand name, Safe Candles.

How the candles are made
"We purchase wax, which is sold in boxes of 25kgs. Every round of production consumes 5kgs of candle wax, so you can use a box for fi ve rounds.

We make 120 candles per round," Muhwezi explains. The candle-making machine, is a manual machine that uses candle wax as a raw material.

The wicks are used to burn the candle. The candle wax can be purchased in agricultural shops around town and sold in kilogrammes.

The process starts with preheating the candle wax to melt it. The machine has a steering which has to be turned so that the vents on the machine are opened so as to enable full size candles to come out.

So, after the wax is melted, it is poured into these openings to the brim. Themachine is connected to a water tank that is opened after the wax is poured in, to solidify the liquid wax into a candle.

After 30-40 minutes, the water outlet on the machine is opened to drain the water back to the tank. The wheel is then steered in an anticlockwise direction to push the ready candles out.

Advantages
A candle-making machine is manual and not driven by any form of power, fuel or electricity. It also consumes little space.

Growing the business
"We started with a door-todoor marketing strategy to retailers, but now, through contacts and references, people come to us or call to place their orders," says Muhwezi.

Today, Muhwezi, has opened up stores in Entebbe, Masaka and Burundi, where clients purchase their candles. He has also registered his candle-making company, Lwemu Group of Companies.
From his initial salary of sh500,000 as a hotel employee, today Muhwezi earns sh2.5m a week from candles. This has enabled him to not only take care of his family, but also invest in other businesses like soapmanufacturing, real estate business and money-lending.
What makes his candles special?
"Our candles are non-drip and act as mosquito repellants. This is what makes our candles beat the competition on the market," Muhwezi says. The fact that they are nondrip means they burn for long, he adds.

Opportunities
Muhwezi has not kept all this success to himself. Two years ago, he embarked on training students in schools and workers in different organisations, especially women organisations, on how to make candles and so far, it is paying him well.

Challenges
The high taxes imposed on the wax make it expensive and, therefore, increase his cost of production. Water shortage is another challenge. "Sometimes we do not have water around this area and yet the machine requires high pressure water." He struggles with competition from foreign investors who enjoy incentives from the Government.

This gives them undue advantage over people like Muhwezi because they can afford to produce low cost  candles, owing to low cost of production. 
Plan
I want to set up a training school for production of candles, soap and detergents. I also plan to invest in a similar machine that makes chocolates.