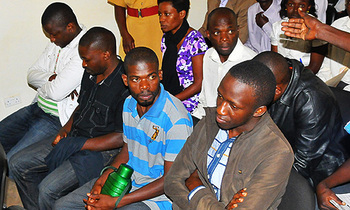 By Edward Anyoli

KAMPALA - Employees of telecommunication company MTN are faced with more charges in connection with defrauding the company of sh3.1b in alleged fraudulent transactions.

Joseph Joshua Magombe, Daniel Ssegujja, Jerom Okecho and Irene Kauma were on Tuesday charged with unauthorized access of computer misuse.

The other charges against the suspects include conspiracy to commit a felony, theft, receiving and retaining stolen property, and electronic fraud.

Magombe is an MTN mobile money agent, Ssegujja a sales representative, Kauma a sales executive for Essy Mobile Money, Oketcho a retention executive and Mary Nassejje is a company sub-agent.

They were charged at the Anti-Corruption Court and remanded to Luzira prison.

State attorney Marion Acio also applied for warrant of arrest for Tamasha Namirembe – a trainee with MTN – who was not in court.

The MTN  employees were jointly charged  with  other suspects only identified  as a self-employed  businessman Edrisa Sserunkuma of Kawempe, Henry Matovu  a self-employed businessman  of  Seguku, Joshua Kalaba also a businessman, Peter Ayebale  a cleaner and Douglas Musasizi a businessman of Ntinda.

Chief Magistrate Irene Akankwasa adjourned court until February15 when the accused will appear in court for their bail application.

Prosecution led by Acio alleges that the suspects on January 25, 2013 stole sh3.15bn, a property of MTN Uganda, at the MTN offices on Yusuf Lule road in Kampala.

It also alleged that the suspects and others still at large within Kampala conspired to commit a felony of theft in the same month. They denied the charges.