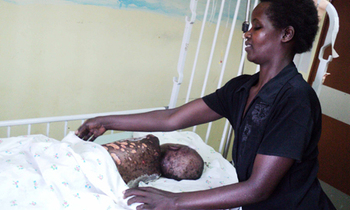 Four-year-old Michael Yiga is nursing serious complications after taking medication for malaria. His mother, Grace Namulwana, 32, narrates the ordeal:
During the Christmas season, last year, Yiga was diagnosed with malaria. I took him to a health centre in Mpigi district, where he was given Coartem (a combination of artemether and lumefantrine).
He completed his dose, but later developed a fever. I took him back to the health centre and he was given Fansindar.
Soon after taking the tablet, he started complaining of a sore throat. I thought he was developing flu, so I gave him medication to ease the discomfort, but the symptoms persisted.
The next day, Yiga developed a rash on the abdomen, which I thought was measles. However, it turned into blisters and spread all over the body.
The doctors at the health centre referred him to Mpigi Hospital, but I decided to take him to Mulago Hospital.
At Mulago, the first question each doctor, who saw Yiga asked, was whether he had taken Fansidar.
Yiga's body is scalded with wounds all over. He feeds through a tube and sleeps under a metallic net to prevent clothes from sticking onto his wounds.
We are getting quality healthcare at Mulago, but Yiga's condition is still worrying. Yiga had recovered as most wounds had healed and he had started feeding himself, but recently fresh blisters and wounds emerged on his legs.
He is currently in the Intensive Care Unit (ICU) and he's frequently put on drips, oxgyen and also had a blood transfusion.
Being a single mother and the sole bread winner for her family in Mpigi, Namulwana has financial challenges.
She says although Yiga just feeds on fluids through a tube, she is still unable to give him the required ¬ fluids. I am only able to buy a cup of milk.
There're ointments required to dress the wounds, but I am unable to get them.
Namulwana has not lost hope and is confident that her son will pull through.
For any assistance, Namulwana can be reached on 0789054824
***************************************
What causes drug reactions?
It is ironic that some medications, popular for their availability, affordability and effectiveness in treating common disease like malaria can cause life-threatening reactions when taken in the right dosage
.
MORE ON DRUG REACTIONS