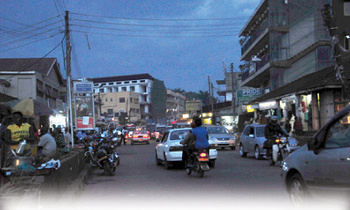 For people in Kabalagala, Valentine's Day evokes memories of a bomb blast that tore through Telex Bar on February 14, 1999. Titus Kakembo visited the area to capture the mood ahead of Valentine's Day this Thursday
On that lovers' day, all roads led to Munyonyo Resort for the Bell Beer Freelander contest organised to crown a 'Scratch-For-Cash' gambling promotion that had been ongoing.
Lovers dressed in red swarmed the entertainment spots in the area. Ladies clutching flowers shuttled about to various destinations. Lovers pecked and cuddled as if there was no tomorrow, whispering endearments and sweet nothings.
Horror
At 7:00pm, the moment was brutally interrupted with a loud bang, followed by screams and a cloud of smoke that rose to the grey sky. The air was rank with the smell of burning flesh. Detached limbs fell about, oozing blood. Some bodies lay back with eyes rolled back white. Pick pockets snatched cash, mobile phones and any valuable from the dead and wounded before the Police arrived. One white man, Big Bjorn, walked out unscathed, but drenched in blood. When the damage was assessed, 25 people were dead and 40 had been injured in the blast.
"It was horror," Jerry Oluma, a former resident near the Police Barracks recalls. 
"Talk had it that the bouncers at Capital Pub had stopped two strangers from accessing the premises," recounts Mzee Sebaduka. "I guess that was the target because the place was popular with Americans and Europeans."
Survivors' tales
Jesse Berera, a volunteer with an NGO, walks with the help of an artificial limb. "I was in my P7 vacation when the bomb hit me," says the light-complexioned Berera. "I was a waitress at Telex Bar.
This was the only way I expected to earn some money to pay for my secondary school. My choice was Nsambya Girls. As other candidates enrolled in Senior One I was in Mulago Hospital nursing my wounded leg.
Finally, the doctors said it was beyond healing and it had to be amputated. My life has never been the same again. To fend for myself, I volunteer with some NGO."
Joseph Eguba, another survivor, who is an accountant, lost his hand in the blast. He remembers it was a sunny day like any other. "There was a heavy bang. It lifted me off the seat, tossed me into the air before I hit the ground hard. When I came to my senses, something warm was flowing out of my torn and dangling wrist. The pain was intense."
Eguba also had to have his right hand amputated and had to learn how to write with his left hand. He says it took him more than one year to have a decent handwriting. "It is hard to get used to the fact that (the hand) is not there.
There are times I move the limb to get a handshake or slap an irritating insect — only to realise I am incapacitated. There are times I wished I had died and been saved from this state of life."
Eguba wishes he had the money to go abroad and get an artificial hand. But the estimated cost of $15,000 is beyond his reach (about sh39m).
"With the war that plagued Teso from 1986, there was no fallback position in the village. Somehow I coped and continue with my job. Computers have made it a lot easier. I use a shower above my head to bathe and where there is none, I use a mug to scoop the water from the basin," he says.
Telex Bar history
Oral accounts indicate that there used to be a fax machine outside this place and people converged here to send and receive messages. Before the media got vibrant in Uganda, locals relied on the Daily Nation from Kenya for news.
To monitor the progress of National Resistance Army (NRA) rebels in Luwero Triangle, people waited for a photocopy of a story which had been faxed to Kabalagala from Nairobi. This fax machine gave the bar its name, Telex.
It was by then, a miniature mud-and-wattle building, but it attracted dignitaries like Paulo Muwanga, the chairman of the military commission and other prominent civil servants.
"In the 1980s, it took a whole day to send a fax and one had to return to confirm reception at the destination," says a landlord, Waswa Kigundu. "We did not have internet. To make a telephone call, you had to go the Post Office headquarters in Kampala City."
Living again
People around the area have put their wounded image back together again. A tour of Kabalagala today is a revelation. Tall buildings dominate the skyline.
The population is swelling by the day. The profile of patrons has been beefed up by students and staff of nearby universities like Kampala International University, in addition to swelling numbers of tourists.
From 7:00pm, cars snake their way through the area destined to Muyenga, Kikuba Mutwe or Kibuli. As everybody retires to bed, Kabalagala stirs to a hive of activity. Heavily-made up girls wearing manes of hair and skimpy frocks, shuttle about in a hurry.
Those in the sex trade compete for attention from the pubs patronised mainly by the expatriate community, tourists and celebrities.
Ask for cow hoof (molokony) stew, goat's ribs, roast chicken or beef and meticulous roadside vendors will deliver it. The shops here stock condoms, lingerie, liquors, airtime, mobile money and cookies. 
Other than Telex Bar, Kabalagala, now boasts of several eateries and pubs serving a plethora of clients with different tastes. The aroma of pork and other barbecued meats dominates the atmosphere in Kabalagala.
One can find Kenya-style nyama choma with ugali, sukuma wiki and kachumbari here, while Ethiopian cuisine lovers can find injera easily.
There are places patronised by young corporates and wannabe socialites who compete in footing the bills to wet the throats of patrons. 
Another bomb blast
This flurry of activity was again interrupted on July 7, 2010, when a bomb exploded at the Ethiopian Village at the screening of the World Cup final. 
Still, Kabalagala has not been intimidated. 
It is said that once beaten, twice shy. Kabalagala has been twice beaten, but there is no hint of life coming to a halt in this suburb.