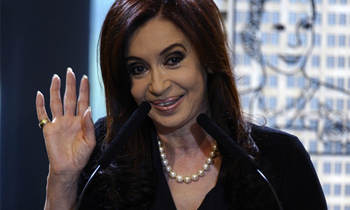 ARGENTINA'S President Cristina Kirchner will remain in hospital with an intestinal infection which forced her to call off a meeting with Chilean president Michelle Bachelet, Kirchner's office said Monday.
The 61-year-old Argentine leader, who was feverish when admitted on Sunday to the Otamendi Clinic in Buenos Aires, was found to be suffering from sigmoiditis, her doctors said.
Kirchner is "stable, remains in hospital under treatment with IV antibiotics, and is under observation," they added.
Due to her condition, Kirchner's meeting with her Chilean counterpart, which was set for Tuesday, has been pushed back to November, said Kirchner spokesman Alfredo Scoccimarro.
The two presidents had planned a teleconference with Argentine-born Pope Francis, which has also been postponed, the spokesman added.
At news briefings, the government spokesman Jorge Capitanich refused to take questions on the president's health, referring reporters to her doctors' statements.
Kirchner has had a number of health ups and downs while in office. She had resumed her normal work schedule October 21 after resting for 48 hours on doctors orders due to pharyngitis.
In July, Kirchner also had to rest for two days due to sore throat and laryngitis. Her recovery time then had to be extended to a week and she cancelled her work schedule and a trip to Paraguay.
A little over a year ago, the president underwent surgery for an intracranial hematoma. She was then off work for six weeks.
AFP