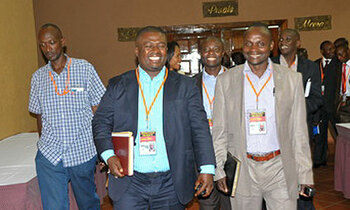 By Raymond Baguma and agencies

The government of DR Congo and M23 rebels Wednesday signed a preliminary peace agreement during the dialogue presently ongoing in Kampala.

Dr. Crispus Kiyonga, the chief facilitator of the dialogue hailed both sides for showing commitment to the peace negotiations taking place at Speke Resort Munyonyo.

He said that the peace deal was reached in the "spirit of reconciliation" and was "significant" because it establishes the goodwill necessary for the talks to continue.

The dialogue evaluated the implementation of the accord that was signed on March 23, 2009 between the DRC government and the Congréss National pour la Défense du Peuple (CNDP) rebel group.

However, implementation of the 2009 peace accord failed which led to the resurgence of the former CNDP fighters under the M23 group.

Kiyonga said that the two warring sides accepted responsibility for the failure of the March 23, 2009 agreement reached between the government and the then CNDP.

According to a review of the failed March peace accord, conducted by the rebels and the Congolese government, 23 provisions of the agreement were either fully or partially respected while 12 were "either poorly implemented or not implemented at all."

Kiyonga said the M23 rebels had violated a provision of that 2009 agreement which stated that any disputes were to be resolved through "political means" not militarily. He said both parties view the 2009 agreement as a document that is "still relevant. Accordingly, it is recommended that a monitoring and evaluation mechanism be established."

The talks began in December last year after regional Heads of State and Government of the International Conference on the Great Lakes Region (ICGLR) met in Kampala on November 24, to seek solutions to the security situation in Eastern DRC.