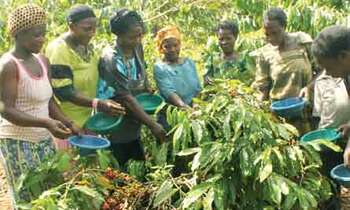 By Andrew Masinde

"Had it not been for Kateregga, I could never have paid school fees for my six orphaned grandchildren. All my children died and I was left with grandchildren whom I had to look after and take to school.

I thought my grandchildren would drop out of school because I could not afford paying their school fees," narrates Teopista Muyinza, a beneficiary of Kateregga's group.

Muyinza had almost given up when a certain woman approached told her about a group that empowers women financially.

"I thought they required payment before one could join, but to my surprise, it was free and when I joined, my life changed. I started saving sh1,000 every time I sold vegetables and since I was committed to the group, Kateregga advised me to borrow some money to take the children to school," she adds.

Who is Kateregga
Sarah Kateregga was born in Butego county, Masaka district. When she got married, she immediately found ways of making money.

"My husband had a big chunk of land, which I used to start farming. I planted coffee and cotton, and reaped big. I used the money to start up a salon.

Starting up
While at her salon, one of Kateregga's customers started complaining that her husband had given her less money for her hair.

"I asked her why her husband had given her less money and she said he had bought Christmas clothes for their children. This touched me and inspired me to start up something that could make women more responsible and independent," Kateregga said.

She immediately thought of doing encouraging women to do something that could earn them money that would cater for simple things like salon expenses.

The women listened to her and they started coming to her salon often to learn how to plait hair. When the numbers increased, Kateregga decided to start a women's group in Kyabakuza, Lwengo district where she was residing.

The rocky start
"The start was not easy since I had no leadership experience. Women picked interest and they would seek my advice on different issues.

I decided to seek permission from the LC so I could start the group. I was given a go-ahead. I used the little money from the salon for transport to different homes to encourage women to join the group," Kateregga said. She named it SSAKA Women's Group.

Most men refused their wives to join the group because they used to meet at Kateregga's home every evening. However, this never stopped her from expanding the group to 27 women.

"My husband was against the idea of leaving home in the evening. This almost made me miss out on the opportunity with the group.

However, he agreed after he heard that Kateregga had brought some people from the Uganda Women's Effort to Save Orphans (UWESO) to talk to the women.

Today he is the first to remind me of the meetings," said Resty Nabatanzi, a beneficiary. Nabatanzi now runs a small salon in Bukoto, Lwengo, has a poultry farm, pays fees for her children and has some savings.

Kateregga started by teaching women in the group how to grow vegetables and rear chicken. She bought the first vegetable seeds and 100 chicks using money from the salon.

They built a wooden house where they kept chicken and the vegetables were grown in Kateregga's garden. Kateregga distributed the grown chicken to the members which they sold and bought more chicks to rear in their homes.

Savings go up
As the number grew to 90 in 2009, I told the members to save sh1,000 every time they came for the meeting. I bought a book where I registered their names and the money before we put it in the safe," Kateregga said.

She added that many people brought the money but did not trust her. Three years down the road, Kateregga has won the members' trust and most of them have started increasing their savings. Some save close to sh10,000 every day.

"I started saving sh1,000 every week but now I save more than sh10,000 after every two days because I know the money is in safe hands. I now have over sh1.2m in savings," Teddy Nakirijja said.

Nakirijja has a poultry farm and a coffee plantation, thanks to the group where she saves and borrows money to finance her projects.

By 2010, the group had over 300 members, majority of whom had joined with the aim of saving. Katega decided to change the name to Saving and Credit Association (SSAKA).

Kateregga also bought 10 more boxes and asked members to start buying shares. Those who bought the biggest number of shares were given a chance to keep the boxes while others kept the keys.
Kateregga divided the members into 10 groups of 30 and each group elects their chairperson. The different chairpersons report to Kateregga and discuss new plans and challenges.

She has introduced many projects in the groups that include farming. "Every member is supposed to rear an animal in their home, chicken and have a banana plantation.

Members are also supposed to grow coffee as a cash crop since it is marketable. All members have taken my advice and now almost all households are assured of enough food for their homes.  
Famine is now history in Kyabakuza," she explained. Kateregga has also introduced the making of liquid soap to the group, an idea she learnt from one of the trade fairs she attended in Kampala.

The group also learns how to make crafts like baskets, mats and table cloths. The proceeds from the crafts are shared among the group memebers.

"I make sure I supervise all the groups to see how they are faring. We meet every Monday with all the members to discuss how much we have saved and also balance the books," Kateregga explains. Cissy Muwonge, a widow who had no hope after her husband died leaving her with seven children, says:

"My husband left land for me but I did not know how to utilise it apart from the small piece I used to grow food. I heard of the group of women who meet to study and decided to go and see what was going on.

I started attending the meetings." The association lends money to the members at a low interest rate. An agreement is signed before the money is taken to avoid defaulting.

Plans
Kateregga plans to set up a bank in the village when she gets money. She also wants to set up an adult education school. "I have discovered that many people are poor because they are ignorant. I want to enlighten them through education, she adds.