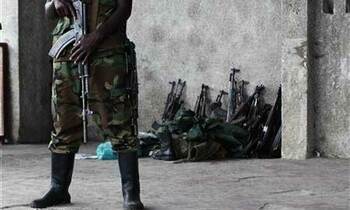 By Raymond Baguma

A committee of experts is this week expected to present findings of a review of the failed March 23 2009 peace agreement between the DR Congo government and rebels in eastern Congo.

This is in line with the agenda of the dialogue ongoing in Kampala, which will evaluate the implementation of the accord that was signed on March 23, 2009 between the DRC government and the Congréss National pour la Défense du Peuple (CNDP) rebel group.

However, implementation of the 2009 peace accord failed which led to the resurgence of the former CNDP fighters under the M23 group.

A statement by the ICGLR on Sunday said that a 12-member committee of experts was established following consultations between the facilitator and heads of delegations, to review the agreement.

The minister of defence who is also the chief facilitator at the talks, Dr. Crispus Kiyonga will communicate the findings' summary and comments to the leaders at the talks, according to the statement.

"The joint committee of experts is tasked to provide and share information and evidence from both delegations regarding the implementation status of the Peace Agreement, article by article," the statement read.

Also, the committee will record and communicate the evaluation of both delegations of the implementation status; and summarize the areas of agreement and disagreement between the delegations.

The final report of the committee and the summary of the facilitator will contain findings and recommendations to address the identified gaps in the implementation of the 23 March 2009 Agreement.

The talks began in December last year after regional Heads of State and Government of the International Conference on the Great Lakes Region (ICGLR) met in Kampala on November 24, to seek solutions to the security situation in Eastern DRC.