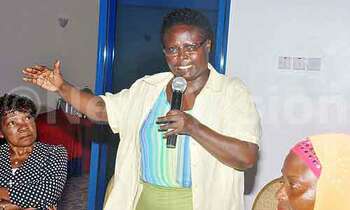 By Francis Emorut                                                    

Pro-democracy activists have asked Government to start civic education ahead of 2016 general elections.

The activists observed that its one year to the general elections and nothing is going on as far as civic education is concerned.

"Election is one year and there is no civic education and yet civic education is supposed to be a continuous process. Civic education is a responsibility of the state. Let's demand our right," Mande

Mugisha a pro-democracy activist said.

Mugisha implored fellow activists even if it meant to demonstrate on the streets to agitate for civic education so it be.

"There is need for mass civic education. If we are to demonstrate and be teargased it's our right and let's claim it," she said.
true
Pro-Democracy activists during a meeting to increase women's participation in mainstream politics and electoral reforms organised by Women Leadership Development (WLEDE) at Hotel Africana in Kampala. Photo/Francis Emorut
Olive Nassuna, another pro-democracy activist criticized government and donors for the last minute civic education campaign saying voters are inadequately prepared to elect their leaders.

The pro-democracy activists were responding to FDC secretary general, Alice Alaso who said it was crucial to have voters' sensitization before elections.

She observed that there is need to step up civic education if voters are to vote from the informed position and not to rash them.

Alaso was speaking during a meeting meant to increase women's participation in mainstream politics and promoting electoral reforms at Hotel Africana in Kampala on Friday.

The meeting was organized by Women Leadership Development (WLEDE) in conjunction with Foundation for Human Rights Initiative and supported by European Union.

Alaso who is also a chairperson of the powerful Public Accountability Parliamentary Committee pointed out that the majority of voters don't know why they go to vote in every election and underlined the importance of civic awareness.

"In every election voters don't know why they vote that's why we need mass civic awareness," Alaso said.

On the need for women to participate in the mainstream politics Alaso explained that the commercialization of politics and intimidation by security operatives scares away women.

"The elections have been characterized by commercialization of politics. Women and not risk takers but care for their families and fear to be arrested and teargased," she said.

The executive director of WLEDE, Edith Ssali emphasized the need to equip women in leadership positions so that they can play key role in the democratization process in the country.

Jennifer Kagugube a member of the organization observed that it is high time women took the mantle and participated in the mainstream politics to improve service delivery in the country.

Presenting findings on "Women in Mainstream Politics- A Case of Uganda's Political Parties," Maria Magezi pointed out that deputization by women was a common practice and attributed to low number of women at the top leadership to negative gender stereotypes about women and their leadership capability.

Dr. Livingstone Sewanyana, the executive director of Foundation for Human Rights Initiative, appealed to Parliament to expedite the passing of Registration of Persons Bill 2014, so as to allow the Electoral Commission to extract information for the new voters register.

"Electoral Commission needs to come up with new voters register time is running short," Sewanyana informed the audience.

He revealed that a body to monitor the 2016 generation has already been formed under the name Citizens Election Observation Network (CEON).

He explained that agency is comprised of 14 civil society organizations that are determined to make a difference in election observers in the history of Uganda.

Previous elections the country had DEMGroup as local observers and others.

The meeting was attended by women leaders in UPC, DP, FDC and JEMA