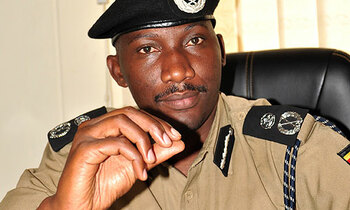 By Taddeo Bwambale and Simon Masaba

Police have summoned leaders of the opposition pressure group 'For God and my Country' (4GC), to record statements over remarks they reportedly made, inciting the public to demonstrate.

The Kampala Metropolitan Police Commander, Andrew Kaweesi, said at a press conference on Thursday that the group would be asked to substantiate their 'unlawful' remarks.  

"I have notified the Criminal Intelligence and Investigations Directorate CIID) to summon leaders of 4GC to record statements over utterances they made," he said.

At a press conference held on Wednesday, the 4GC coordinator, Mathias Mpuuga accused Police of violating Ugandans' rights under the guise of fighting terrorism.

The former Forum for Democratic Change (FDC) party chief, Dr. Kizza Besigye, also faulted Police for denying Ugandans a right to demonstrate.

"What we want is not money but support for the right of Ugandans to express themselves and demonstrate. It's unfortunate that Uganda has continued to violate that right," he said.

Besigye also said he was disappointed that all embassies and funders have remained quiet over the matter.

Kaweesi vowed to arrest the Lord Mayor, Erias Lukwago and members of the group if they take part in the Clean Kampala initiative scheduled to take place on Saturday.

The group has planned to clean up the city and thereafter, hold a consultative rally at Nakivubo Settlement Primary School.

"Anybody who takes part in that activity will be arrested and prosecuted. 4GC is an illegal group that is bent on causing chaos. This time, we shall deploy all our assets, logic and physical capabilities to ensure the city is free from disorder," Kaweesi said.

The group metamorphosed from Activists For Change (A4C), a pressure group that was outlawed by the Government last year.