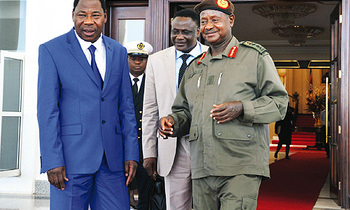 The President of Benin and chairperson of the African Union, Yayi Boni, held talks with President Yoweri Museveni on his visit to Uganda.

The two leaders discussed various conflicts affecting the African continent, particularly those in Mali, the Central African Republic, the Democratic Republic of Congo, South Sudan and Somalia, according to a statement issued from State House.

During the meeting at State House, Entebbe, President Museveni called on the African regional blocs to work for the unity of the countries on the continent.

Turning to issues affecting Africa as a whole, Museveni stressed that the continent needs economic integration, security and common defence, adding that political integration may come at a later date.

Museveni said within the Great Lakes region, the conflict is now in Congo.

He, however, noted that the issue of governance in Congo was being addressed as the country has had two elections.

Museveni said what remains today are the issues pertaining to all the groups in the country.

The President said Africa has a lot of capacity that has not been tapped. He pledged to send Ugandan oil scientists to assist Benin in its efforts to explore oil.

President Boni saluted Museveni for his exemplary role in restoring peace in Somalia.

He also commended Museveni for the key role he played in the restoration of stability in Congo and South Sudan.

Boni disclosed that he travelled to Uganda to, among other issues, brief President Museveni about the prevailing situation in Mali.

President Boni said he fully supports the decision to send an international peace-keeping force to Mali, which is battling an extremist rebel group in its northern region.

He was accompanied by his minister of foreign affairs, Bako Arifaki Nassirou, the Ambassador of Benin to Uganda, Ferdinand Monfcho and his special advisor, Diallo A. Mariam.

The meeting was attended by the permanent secretary in the Ministry of Foreign Affairs, Ambassador James Mugume.