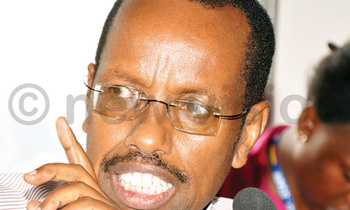 THE secretary to treasury Keith Muhakanizi has castigated Parliament for delaying to pass the national budget of sh15trillion as it affected quarterly releases of funds.
"All ministries and government departments have not received money because Parliament delayed passing the budget." MPs passed the budget on October 2 after months of scrutiny.
Muhakanizi said the ministry of finance is to pay civil servants salary arrears by October 28 and pension, utilities and gratuity by the end of December 2014.
Muhakanizi was addressing members of civil society organizations and government officials at the ministry headquarters in Kampala.
"We want salary arrears cleared by end of October as long as it is verified. We have the money and we want to pay," Muhakanizi said.
"Government has made a commitment to clear all verified arrears starting with salaries, pensions and gratuity and utilities."
Muhakanizi who is also the permanent secretary to the ministry of finance was speaking during the launch of the annual budget monitoring report financial year 2013/14 and quarter two budget release for 2014/15.
He said it was time for civil servants to deliver following financial reforms and implementation of the straight through payment system to ensure that funds get to the facilities.
"Teachers must teach. Health workers must do their job, road work must be completed on time and ministry of finance must deliver management systems on time," he said.
He noted that service delivery was still bad especially in health, education and road sectors and therefore, the need to address the gaps.
"Time has come for us to deal with shame," he stated.
The permanent secretary also lashed at civil society organizations for not playing their oversight role of monitoring the budget and warned that they shouldn't continue dipping their hands on donor money.
"Civil society can't continue to 'eat' money and get away with it," he said.
Julius Mukunda, the coordinator of Civil Society Budget Advocacy Group appealed to government to enforce the display of quarterly releases on the noticeboards of district headquarters to enhance accountability.
He pointed out that civil society group conducted a survey of 37 UPE schools and found that some districts were not displaying money released from the central government.
He also called on government to rectify discrepancies in UPE enrolment as figures from the ministry don't tally with the district ones citing a school in western Uganda which had 1200 pupils and yet ministry's figure indicated 1594 enrolled pupils.
He was supported by general secretary of UNATU James Tweheyo who said some districts don't display the list of staff teachers on the noticeboards and the ministry of finance should rein on them.
Margaret Kakande, the head of budget monitoring and accountability unit informed the audience that government has made some significant strides is service delivery but more concerted efforts are required to improve service delivery in health, education and road sector.
She singled out inadequate equipment for the road sector at regional level.
"The equipment is not good enough and this affects the level to which roads can be maintained," Kakande said.