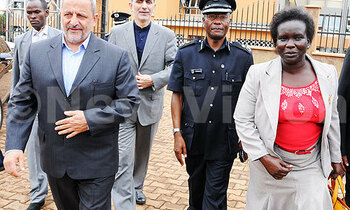 By Innocent Anguyo

The head of the Police in the Islamic Republic of Iran, Brig Gen Ismaeil Ahamdi Moghadam is in Uganda to tour the country's police institutions with a view of increasing its capacity to fight crime in the 21st century.

Touring facilities at Police Headquarters at Naguru in Kampala, Moghadam said he was pleased with gains Uganda made in professionalizing the police force. This visit is part of a Memorandum of Understanding (MoU) between the governments of Uganda and Iran.

Flanked by the Iranian ambassador to Uganda, Amir Hossein Nik Bin; three brigadiers; two colonels and a lieutenant from Iran, Moghadam also inspected civil works at a $1.5million (sh3b) polyclinic in Naguru Police Barracks.

Iran is funding the construction, furnishing and equipping of the polyclinic as part of the MoU that is equally seeing the oil-rich Persian country train police officers and build capacity in forensic science and cybercrime management.

The clinic is a humanitarian initiative for Uganda by Iran Red Crescent Society meant to provide subsidized medical services to police officers and the neighboring communities.

It is a build, operate and transfer (BOT) concession that will be run by the Iranians for 30 years, after which it will be handed to Ugandan government.
 
Related Stories