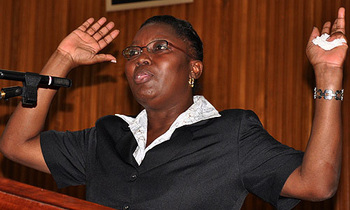 By Mary Karugaba & Moses Walubiri

KAMPALA - MPs testifying before the disciplinary committee have blamed the Speaker of Parliament, Rebecca Kadaga and the Government Chief Whip, Kasule Lumumba, for the oil Bill debate chaos.

On Wednesday, MP Odo Tayebwa told the committee, chaired by Fox Odoi, that the debate degenerated into chaos after the Speaker failed to take control.

"I wish she could also be summoned to appear before this committee. She failed to control the House," Odo said, to the amusement of the members.

He said what happened did not warrant an investigation because it was normal.

"That was normal. Members just stood up and shouted 'No vote' while others shouted 'We vote'. Everyone was charged because of the topic that was being discussed. Most members stood up or shouted because they wanted to capture the eye of the Speaker," he said.

But committee members insisted that what happened was not normal because it violated the rules of procedure which demand that members should not clap, shout or speak when the Speaker is talking.

Odo later apologised for "the wrongs" he may have done. He was captured on video shoving a colleague and at one point standing while the Speaker was talking.
Florence Kintu, also appearing before the same committee, said members on the Government side stood up after Kasule Lumumba signalled them to do so.

"After the opposition stood, I saw the Government Chief Whip gesturing to us to stand up. That is when everyone stood up and started shouting 'we vote' and 'no vote'. I also stood but later sat," she said.

Kintu told the committee that some of the members have been undisciplined.

She pointed out the late Butaleja Woman MP Cerenah Nebanda, who she said at one point pulled the ear of the Prime Minister during the debate and added that others stole the Vice-President's file.
When the committee asked her to name some of the undisciplined members, she requested to testify in camera.