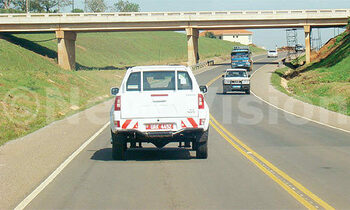 By Samuel Balagadde

About 400 property owners are expected to be affected by the construction of the second phase of the Kampala Northern Bypass, the Uganda National Road Authority (UNRA) has said.

Close to sh30b will be spent on compensation in areas around the roundabouts along this road that are to be upgraded to flyovers with interchanges, additions to the design that will require more land.

UNRA spokesperson Dan Alinange said the land to be acquired is expensive since it has commercial structures.

"We are finalising arrangements to compensate the people affected by this road project to enable the contractor commence the works on time," said Alinange.

He said they have contracted Mottengel Construction Company from Portugal to construct the second phase of the road at Euros60m (sh260b).

According to Alinange, the works on the road, which will last 30 months, are expected to commence at the end of this year.

The first phase of the road consisted of a 21km stretch, comprising 17.5km of single carriageway and 3.5km of dual carriageway between Hoima Road and Gayaza Road.

The road was intended to relieve the current severe traffic congestion in Kampala city and to also serve as part of a wider programme to reduce the transportation constraints along the northern corridor for both national and regional transport.

The road, which was officially opened to traffic in 2009, was constructed from 2004 and was financed by the European Union and the government.

It cost sh110b and an additional sh20b which was compensation to property owners. The Kampala Northern Bypass consists of nine bridges. It stretches from Bweyogerere through Naalya, Kiwatule, Kulambiro, Kigoowa Bukoto, Mulago, Makerere, Bwaise, Kawaala and Namungoona.
RELATED STORIES:
Portuguese firm awarded sh200b Northern Bypass contract