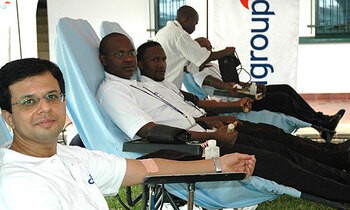 By Prossy Nandudu
 
The Uganda Red Cross society has launched a door to door campaign to collect more blood to handle emergencies that arise during the festive season.
 
This was revealed by the programme manager blood donor recruitment at Red Cross Sarah Mutegombwa.
 
The festive season is normally characterized by road accidents and child births which on many occasions require blood transfusions.
 
"During the festive season there are few blood donors because schools are closed so it becomes hard for us to collect blood that is why we are not moving from place to place to have as many units as possible," explained Mutegombwa.
 
She said this on Wednesday at a blood donation exercise organised by UGAFODE microfinance and the Uganda Red cross, at Rubaga road branch.
 
She said that they are in need of 250,000 units of blood and so far they have collected 2000 units.
 
At the same function, the Chief Executive Officer UGAFODE microfinance, Wilson Twamuhabwa said that they championed the blood donation exercise as a way of appreciating their customers.
 
He said that year 2012 has been full of challenges for the banking industry ranging from increased inflation as a result of high food prices; unreliable exchange rate which increased their cost of doing business.