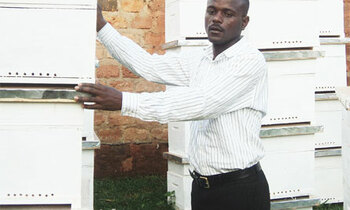 In the 2011/2012 financial year, the Government set aside sh44.5b for the youth fund. The money was for the youth to borrow and start or boost their businesses. However, up to now, some youth have not established what it takes to get the money. 
This has seen some of them engage in running battles with the Police; demonstrating over what they call unfavourable terms set for one to access the loan. These form a fraction that is biased and believes that not much can be achieved with the fund. 
However, some youth have used the fund to boost their businesses. One of them is Borman Bomwe, 32, a graduate of community psychology from Makerere University. He is an enterprising gentleman; selling honey and beehives. 
He keeps bees and also buys honey from small scale bee keepers. He processes and packages the honey and sells it to retailers, as well as the final consumer. Bomwe keeps bees in Nakasongola and back home in Sheema, so that he can get more honey to supplement what he buys.
Started early
Bomwe was introduced to bee keeping at an early age. However, he fully ventured into commercial apiculture in 2004.  
He has since advanced from using local materials such as papyrus for his bee hives, to timber. Bomwe says what attracted him into this business was the need to secure money for uncertainties that lay ahead of him. 
His father passed on when he was young, and although he is the last born in his family, he had to fend for himself. Unlike most of his peers who had their parents to fend for them, Bomwe was only in high school when he began to sell honey to get pocket money. 
With satisfaction, he talks about how he used to give money to some of his friends who hailed from well-to-do families. 
He also used to lend money to some of his seniors back in his village, but he is quick to mention that most of them never paid back on the account that he was a young man who did not need money. While at Ntare School, he sold honey to his teachers and he boasts of maintaining that clientele to this day. 
Bomwe did not only fend for himself in high school, he also paid his university tuition from selling honey. He says while at university, he seldom lacked. 
"I would only become broke for at most, two days, but rest assured that I would collect money from the supermarkets where I supplied my honey," he says. After finishing university, he decided to acquire a loan from the youth fund. 
"It took me only a month to get the loan from Centenary Bank. I was asked for collateral and I offered a land title. I have so far borrowed sh15m and it has greatly boosted my business," Bomwe says. 
He says with the money, he has increased production; bought honey processing machines and ventured into making of bee hives and bee suits. 
He adds that before he got the loan, he would only supply 14 cartons of honey per week and get about sh1.5m. However, after getting the loan, he increased production and supplies about 70 cartons per week worth about sh7.5m.
Bomwe says he sells each carton comprising 24 (500g) honey jars at sh108,000. The bee hives go for sh130,000 and sh70,000, depending on the quality. 
He adds that even though the loan has given his business a great lift, the only problem is that he did not get as much as he needed.
Achievements
Bomwe says he has been able to expand his clientele. "I supply honey to many big supermarkets. I also do personal deliveries to people's homes," he says. He also has clients in areas like Kabale, Jinja, Mukono and Mbarara. 
"I sometimes have to get the late night bus to go upcountry to make sure my clients do not run out of stock," he says. The increasing clientele has certainly increased his turnover. Bomwe has not only created a job for himself, but also for others. 
He employs five people. He adds that he has been able to buy himself a luxurious Ford Explorer from selling honey and this has eased his transport. He also plans to buy a plot of land next year.
Prospects
Bomwe plans to acquire more money from the youth fund to further expand his business. He says because he repays his loans well, the bank has promised to give him more money. He wants to venture into candle making and has already bought some equipment. 
He also plans to start up a bee keeping consultancy as well as train potential apiarists. Bomwe emphasises that bee keepers should be given the motivation they deserve, as honey is a remarkable product, which will never lose relevance or market. He also plans to start exporting his honey.
Challenges
Bomwe says marketing his honey brand, Elgon Fresh Honey, has not been easy. Needless to say, the market is hypercompetitive. 
The modern machinery is extremely expensive, yet it makes processing the honey easier. He adds that bee keeping has not been given priority, so the farmers do not care for it that much, which causes shortages in supply. 
Bomwe also says his developments are setback by bad debtors and clients who do not pay promptly.
11 Basic Requirements for the fund 
Eligible borrowers are expected to comply with their local business licensing requirements.
Eligible enterprises must have been in operation for a minimum of three months.
Each business project should be able to provide employment to at least four people by the end of the loan period.
Each borrower is required to present at least two guarantors who must be persons of good repute within the local community.
If approved, eligible beneficiaries should be willing to receive advice and be ready to participate in financial skills training and men to ring for proper business management. 
Individual requirements 
Proof of age.
Proof of nationality and residence (passport, birth certificate, voters' card, utility bill or parents' bill, LC letter or tenancy agreement).
Credit Reference Bureau (CRB) card. Required of only successful applicants. This is available at all bank branches at a fee of sh50,000.
Companies/partnerships
Certificate of registration, incorporation or partnership deed.
Certified memorandum and articles of association.
CRB card after payment of sh60,000 (Required of only successful applicants).