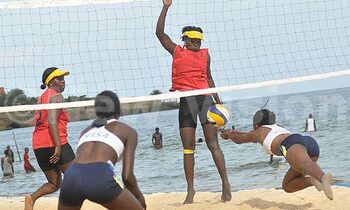 By Michael Nsubuga

Diana Agaba and Josephine Nammanda beat the pair of Sheilla Buyungo and Eunice Amuron 2-0 (22-20, 21-18) to return to the podium at the second leg of the Castle Lite National Beach Volleyball Tour at Lido beach.

In the men's category Uganda's Under-21 team of Elias Isiagi and Kathbert Malinga produced the shocking results of the day edging out top seeds Ambrose Okello and Dickens Otim 2-1 (14-21, 21-14, 15-10) at the semifinal stage.

But it was Emma Kato and Nicholas Dheyongera who prevailed over them in the final notching their second Gold of the season in straight sets 2-0 (21-18, 21-16) in the men's final.

In the women's category Agaba and Nammanda were back to their usual best outwitting every opponent from the start, but had to dig deep to stop the hard fighting team of Buyungo and Amuron in the women  final to bag first place for the second time this year.

Agaba and Nammanda had in the semifinal beaten Mercy Tabitha and Hafsa Nakalema, 2-1 (26-28, 21-16, 15-11) whereas the Buyungo's had beaten Peace Busingye and Zaina Kagoya,2-1(21-10, 12-21, 15-7) in the other semifinal.

Kato and Dheyongera eliminated Hannigton Nsubuga and Isaac Omedo, 2-1 (12-21, 21-18, 15-10) in the men's semis.

Amuron Eunice  (L) and Sheilla Buyungo celebrate a point during the second leg of the Castle Lite National Beach Volleyball Tour at Lido beach, Sept 28 2014. PHOTO: Michael Nsubuga
The highly contested event attracted 34 teams and had all the semi-finals ending in tie-breaks with the little known names showing a lot of improvement in their game.

Beach action will return on November 8 before the Castle Lite East African Tour later on December 6-7.

Results:

Quarterfinal:

Women: Sheilla Buyungo / Eunice Amuron beat Sharon Pajije / Irene Adeke 2-1; (19-21, 21-18, 15-11)

·         Peace Busingye / Zaina Kagoya beat Alice Okecho / Gloria Nantege 2-0; (21-10, 21-16)

·         Mercy Tabitha / Hafsa Nakalema beat Viola Akisa / Hellen Namazzi 2-0; (21-10, 21-12)

·         Diana Agaba / Josephine Nammanda beat Maria Nanfuka / Joanita Nabitto 2-0; (21-12, 21-15)

Men

    Dickens Otim / Ambrose Okello beat Emma Elanyu / John Mark Okurut 2-0; (21-14, 24-22)
    Elias Isiagi / Malinga Kathbart beat Stephen Oguti / John Barnabas 2-1; (21-18, 20-22, 15-10)
    Kato Emma / Nicholas Dheyongera beat Amon Aineybona / Richard Tamale 2-0: (21-17, 21-14)
    Hannington Nsubuga / Isaac Omedo beat Deo Nsereko / Henry Bbaale 2-0; (21-14, 21-9)
 
Semifinal

    Sheilla Buyungo / Eunice Amuron beat Peace Busingye / Zaina Kagoya 2-1; (21-10, 12-21, 15-7)
    Agaba Diana / Nammanda Josephine beat Tabitha Mercy / Nakalema Hafsa 2-1; (26-28, 21-16, 15-11)

     Isiagi Elias / Malinga Kathbart beat Otim Dickens / Okello Ambrose 2-1; (14-21, 21-14, 15-10)
    Kato Emma / Dheyongera Nicholas beat Nsubuga Hannington / Omedo Isaac 2-1: (12-21, 21-18, 15-10)
 
Finals:

    Diana Agaba / Josephine Nammanda beat Sheilla Buyungo / Eunice Amuron 2-0:(22-20, 21-18)
    Emma Kato / Nicholas Dheyongera beat Elias Isiagi / Kathbart Malinga 2-0: ( 21-18, 21-16