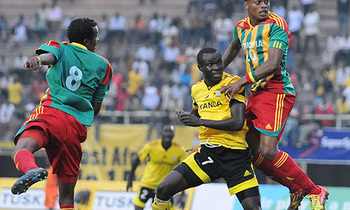 By Joseph Kizza

Tuesday results
Kenya 1 (Baraza 57') Malawi 0
Uganda 2 (Kizito 4', Ssentongo 60') Ethiopia 0
Thursday semifinals fixture
Kenya     v    Zanzibar
Uganda   v    Tanzania

NAMBOOLE, Kampala - Uganda remained unbeaten in this year's Cecafa tournament when they edged out Ethiopia 2-0 at Namboole Stadium to advance to the semifinals due this Thursday.

The hosts' goals came on either side of normal play time through midfielder Geoffrey Kizito and forward Robert Ssentongo.

Vietnam-based Kizito placed the Cranes ahead early when he tucked the ball behind the keeper in the 4th minute. Then striker Ssentongo, who plays for URA, wrapped up the win in the 60th minute.true

Tuesday's win means that the defending champions are the only side yet to concede a goal in this regional tournament.

Meanwhile, Kenya also cruised to the final four stage when they shook off guest team Malawi 1-0 earlier. The Harambee Stars' only goal was scored by veteran striker Mike Baraza in the 57th munute.

Now, the regional soccer showpiece that started a little over a week ago has come down to four teams.
Kenya battles it out with Zanzibar in the semi-finals this Thursday, as the hosts – Uganda – play Tanzania for a place in the final of the event.
Zanzibar and neighbours Tanzania knocked out close neighbours Burundi and Rwanda respectively on Monday at Lugogo.
Uganda will look to a 13th title, as Kenya eye a 6th final's success. Tanzania hope to clinch their fourth title since 2010 when they beat Ivory Coast 1-0 in the final. The last and only time Zanzibar have owned the title was in 1995 when they overcame Uganda (Uganda "B") 1-0.