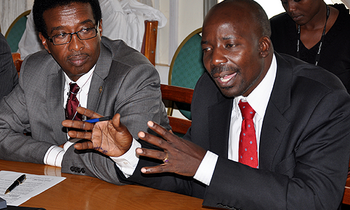 By Mary Karugaba and Paul Kiwuuwa

PARLIAMENT, Kampala - The disciplinary committee has failed to identify the ringleaders of the chaotic Tuesday parliamentary session despite repeated rewinding and fast forwarding of the video footage.

Viewing the footage of the proceedings from the Hansard and public relations department, the committee, chaired by Fox Odoi (West Budama North), also failed to identify the members who attempted to grab the mace from the Sergeant-at-Arms.

The committee is investigating the Tuesday incident, where MPs became rowdy, disrupting the proceedings. In the ensuing chaos, some members attempted to grab the mace.

The House was debating the Petroleum Bill 2012, which has split MPs across the political divide. Trouble started when members were due to review the amendment of Clause 9 that gives the energy minister powers to grant and revoke oil licences.

When some MPs requested for debate, others rejected the proposal, sparking off commotion. Efforts by the Speaker, Rebecca Kadaga, to bring order in the house fell on deaf ears.

On Wednesday, Kadaga suspended the House and directed the rules and disciplinary committee to investigate the matter and bring those responsible for the chaos to order.

She also directed the committee to identify members who attempted to grab the mace from the Sergeant-At-Arms and cause them to appear before the committee to defend themselves.

The committee will report back to the House on Monday.

However, while viewing the footage, the committee could not pick out members who could have exhibited gross disorderly behaviour such as rowdy conduct since almost all the members were standing, shouting and heckling.

"Are we going to summon the whole House? I can see almost every one standing and shouting?" MP James Akena asked. Akena is among the committee members who were also captured standing, debating on top of his voice.

The situation was worsened by the fact that the cameras in the chamber only captured individuals speaking and the Speaker, but not the hecklers.

Parliament rules of procedure do not allow camera operators to record chaotic scenes in the House.

After failing to identify the culprits, the committee agreed to summon a section of members on the front benches, mainly ministers, to help them identify the individuals.

These were ministers Peter Nyombi, Crispus Kiyonga, Sarah Opendi, Matia Kasaija, Okello Oryem, Ernest Kiiza and the Government chief-whip, Kasule Lumumba.

On the opposition, the committee will summon Wafula Oguttu, Beatrice Anywar, Odonga Otto and Gilbert Oulanyah.

The members also agreed to summon the Sergeant-at-Arms, Ahmed Kagoye, the clerks and two chamber attendants, who protected the mace from being carried away.

Rujumbura MP Jim Muhwezi and MP Simon Mulongo said without the video evidence, it will be difficult to pin the members.

Although sections of the media quoted Anywar as one of those who tried to grab the mace, evidence from the footage shows she was far away from the Speaker's instrument of power.