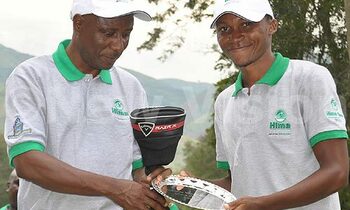 By Michael Nsubuga
Hima Open
Habib Kisande 150 (Gross winner)
Happy Robert 153
Lawrence Muhenda 156
TORO Club's Denis Otim hit a hole-in-one on the first day of the Hima Cement Open at Kilembe Golf Club but it was Kilembe's Habib Kisande who took the championship after two days of action.
Using an iron No.5 690cb, Otim achieved the rare feat on the par 3 hole No.14 using a Titliest ProV No.4 ball, in the company of Rodell Gaita, Adam Kojo and Peace Kabasweka.
Kisande (handicap four) shot one over par 74 on the first day before edging out defending champion Happy Robert by a stroke on the second day to win his first major tournament since taking on serious golf last year.
En-route to winning Kisande hit four birdies and an eagle on hole- No.2 on the second day to beat Robert by three shots.
"I feel very happy after fulfilling my dream of winning this tournament; having finished fourth last year, I thought I had a chance to win next time, so I put in a lot of practice with my brother Sulait Kisande and at the end it paid off," Kisande said.
The feat did not only earn him a glittering plaque and a tee-off club but he is also assured of sponsorship for other tournaments courtesy of Pride Trading Company.
Group A
Sulait Kisande 148 nett
Paul Kasaija 149
Joseph Tusiime 154
Group B
Rogers Atuhaire 146
Nuuh Kasana 152
Group C
Joab Ngayi 171 c/b
Julius Musinguzi 171
Ladies
Dani Renno 145 nett
Peace Kabasweka 160