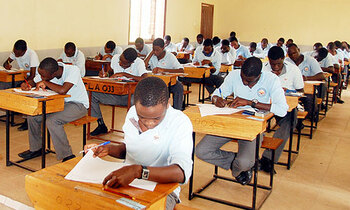 By Apollo Mubiru   

 Senior Six national examinations have started peacefully countrywide.

"The exams are going on smoothly. I have not heard any negative reports so far," Uganda National Examination Board (UNEB) spokesperson, Hamis Kaheru told New Vision online Monday morning.

A total of 111,581 candidates from 1,485 centres countrywide are to sit for the exams. UNEB has put in place tighter controls against malpractices.
This represents an increase in the number of candidates by 7,821 students.

Last year, a total of 103,760 candidates sat for the exams at 1,334 centres.

Business, technical and vocational education training (BITVET) exams will also started, running up to November 16.
A total of 13,919 are sitting for this year's BITVET exams, compared to last year's 22,037.

Addressing journalists at UNEB head offices in Kampala on Saturday, the executive secretary, Mathew Bukenya, said away from the norm, each examination centre would be allocated a random number to conceal its identity from examiners.

He said the move was intended to ensure transparency in the marking and eliminate bias from examiners who may favour particular institutions.