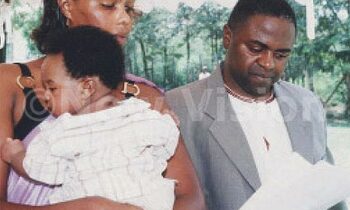 By Raymond Baguma

With the confirmed Ebola outbreak in neighboring DR Congo, Uganda will evaluate before approving deployments of more health workers to Ebola-hit West African countries.

Presently, at least 20 Ugandan health workers are in Liberia and Sierra Leone after the World Health Organization (WHO) requested Uganda to provide technical experts to support the Ebola outbreak response in West Africa.

The team comprises of epidemiologists, laboratory experts, clinical officers, nurses, nursing officers and nursing assistant with experience in case management during previous Ebola outbreaks in Uganda.

Benjamin Sensasi the health promotion officer for WHO in Uganda said the health workers' one-month contract would expire next week; but the world health body would renew their contracts if the ministry of health does not object.

When contacted, Dr. Asuman Lukwago, the ministry of health permanent secretary said that Uganda would not object to have its health workers remain in West Africa as long as WHO is willing to maintain them. Dr. Lukwago commended the health workers for putting their lives at risk in order to work for Uganda and contain the Ebola outbreak from its epicentre in West Africa.

"But if WHO writes to us for more health workers, we would have to assess our capacity and we can rationalize their request and see if we can meet it before they are deployed. We don't want to spread too thin and with Ebola reported in Congo, our teams have to be prepared," said Dr. Lukwago.

Ugandan health authorities have intensified surveillance following an Ebola outbreak in neighboring DR Congo that has so far killed 31 people and infected over 100 others.

The outbreak in West Africa started in February in Guinea's and has been reported in Sierra Leone, Liberia, Nigeria and now Senegal with 3,500 infections and 1,900 reported deaths.

Ebola is a highly contagious with a high fatality rate and can be spread through direct physical contact with body fluids like saliva, blood, stool, vomits, urine and sweat from an infected person and soiled linen used by a patient.

It can also be spread through using skin piercing instruments that have been used by an infected person. Likewise, a person can get it by getting in touch with a dead body of a person who has died of the disease.

Ebola's signs and symptoms include fever, general body weakness, muscle pain, headache, abdominal pain, sore throat, vomiting, diarrhea, rash and bleeding through body openings. It also causes an onset of kidney and liver failure. Currently, there is no known cure for Ebola.
RELAED STORIES:

Uganda alert after Ebola reports in DRC
Ugandan doctor dies of Ebola in Liberia