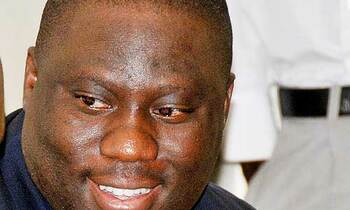 By Mary Karugaba and Ann Mugisa

The Auditor General has grilled top Government bosses over the mess surrounding former principal accountant in the Prime Minister's office, Godfrey Kazinda.

Deputy secretary to the Treasury, Keith Muhakanizi; the  Accountant General, Gastavio Bwoch, the Permanent Secretary office of the Prime Minister, Pius Bigirimana and acting deputy  Governor Bank of Uganda, Jane Bagenda, were grilled for hours over the irregular transfers of sh14.8b.

In a draft report of the forensic audit, the Auditor General, John Muwanga, discovered that sh14.8b was irregularly transferred from two PRDP accounts, each with sh37b and 36b respectively, in the Central Bank into a Crisis Management Account, which had been dormant for months.

"The Auditor General presented his draft audit findings to each of the parties. Each one was tasked to respond to issues raised against them," the source told New Vision.

"Finance and Bank of Uganda (BoU)were asked to respond to the issues of how the money was irregularly transferred from the PRDP accounts into the dormant account. Muwanga wanted to know whether Finance and Bank of Uganda officials had a hand in it," the source added.

"The Auditor General informed us that it is from this account (crisis management account) that money started vanishing. There were questions of whether there was connivance between BoU, Treasury and OPM officials," the source said.

Muwanga Thursday evening confirmed meeting the officials but declined to divulge the details.

"This is not the right forum for me to state what happened. The report will soon be released, "he said on phone.

Meanwhile Bigirimana has denied reports that he blocked the Police from summoning senior officials from the office of the prime minister (OPM)for interrogation over swindled funds.
Addressing journalists at his office, Bigirimana said everybody should wait for the Audit report by the Auditor General before "speculating and causing unnecessary anxiety."

"If the Police wanted to interview and investigate anybody, they should do it in a civilised manner. Issuing summons after work is a little suspicious," he said.

He said he blew the whistle about the suspected loss and called the Police to arrest the Principal Accountant, Godfrey Kazinda.

"I wish to assure the public that I am resolute in providing technical leadership in the OPM which will provide the public with confidence and trust they expect from public officer," he said.