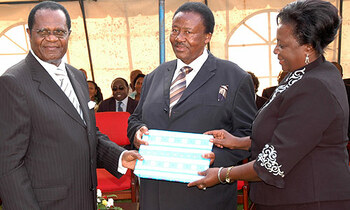 By Andante Okanya

Retired Justice Alfred Karokora has petitioned the Constitutional Court, demanding full payment of his pension from July 1963 to November 5, 2006 when he retired.

In the petition filed at the court on Wednesday, Karokora claims Government cheated him by 85 (seven years of service) out of the total period of 520 months that he served.

Through Munanura-Mugabi, and Company Advocates, Karokora whose last posting was judge of the Supreme Court, contends that the pension authority only computed payment for 435 months.  Karokora does not indicate the exact amount that he is demanding.

He retired at the mandatory age of 70, and asserts that the Pensions Act clause that was used to compute his payment is inconsistent with the Constitution provision that guarantees pension payment.
Government chief legal advisor the Attorney General (AG), is indicated as the respondent.
The retired judge states that the pensions commissioner Steven Kunsa, in justification of its 435 months payment, reasoned that the Public Service ministry was bound by Section 13(1) Cap 286 of the Pension Act, that placed a ceiling to the pensionable emoluments, that any pensioner could get 87% or 435  months.

Karokora who has sworn an affidavit in support of the petition, is demanding court pronounces itself on the purported inconsistency.

"I want Section 13(1) of the Pensions Act Cap 286 to be declared inconsistent with Article 254(1) of the Constitution, and therefore null and void to the extent of its inconsistency,"Karokora contends.

He wants court to compel Kunsa to re -compute his pension of 520 months and pay interest on the resultant figure and monthly pension from the date of retirement till full payment.

Court records show that at the time of retirement, Karokora was earning a monthly salary of sh4.9m. He states that on March 22, 2007, he received a cheque for gratuity, and realised that it did not include the seven years (85 months). He rose through the ranks from lay magistrate to Supreme Court judge.

The AG is yet to respond to Karokora's claims. A hearing date is yet to be fixed.

Recently, retired Supreme Court Justice George Kanyeihamba expressed discontent with the meager sh900, 000 monthly pension he is getting, saying it is inadequate to cater for his needs.