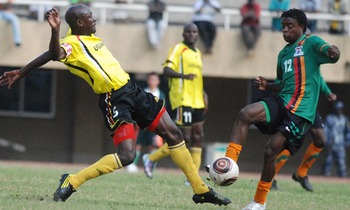 true
By Fred Kaweesi

Desperate situations call for desperate measures and Zambia seem to be towing similar lines if events in the last couple of days have been anything to go by.

Apart from the African champions revisiting the same training venue in Johannesburg that they used ahead of their successful 2012 Nations Cup campaign, Zambia have unleashed a team to 'spy' on Uganda's preparations three days before Saturday's decisive Nations Cup qualifier.

The group led by Football Association of Zambia (FAZ) vice-president Boniface Mwamelo was due in the country on Monday and will undoubtedly arm the team's head coach Herve Renard with the necessary information about the Cranes and other vital clues for the historic fixture.

Zambia are still 'weeping' over the absence of their playmaker Rainford Kalaba, who has been forced out of the weekend game due to a groin injury he suffered during TP Mazembe's goalless draw against Tunisian side Esperance in the first leg of their Africa Champions League semi-final.

However, although the development qualifies as good news for the hosts, former Cranes captain Ibrahim Sekagya has asked the Ugandan side to respond to it carefully aware that this is a period for 'mind games' as well.

"Let's not read a lot into that and simply focus on our own game plan," Sekagya told New Vision yesterday on phone from Austria.

The Red Bull Salzburg defender served Cranes with distinguished service long enough to know the demands that come with such a golden opportunity.

Although the wounds of the previous campaign that ended in sheer heartbreak against Kenya are still fresh, Sekagya believes there is absolutely no reason why it does not come good this Saturday.
"They (Cranes) should simply believe in themselves. They should forget pressure from the fans and do what they are capable of. Of course, Zambia are a good side but they should look at it like any other game. I am sure the Zambians are scared of Cranes as well," Sekagya stated.

Cranes preparations intensified yesterday following the arrival of all the expected foreign-based players and coach Bobby Williamson will spend the next 48 hours working out the most appropriate strategy that will steer Uganda to the finals next year.

Cranes suffered a 1-0 defeat to Zambia in the first leg in Ndola and need a 2-0 result to progress to the tournament due in South Africa.

Will it be possible? "It's very possible," adds Sekagya.

"The first 20 minutes into the game will be very important. Cranes should be patient, stick to their game plan and most important be disciplined in defence.

"Our strikers will also have to be more clinical this time. We should convert every chance that comes. We should play for each other, forget the Kenya experience and move on. We are at home and the fans should push the team till the end.

"I will talk to a few of the players later this week. The biggest positive is we have Onyango (Denis). He is a superb goalkeeper," he added.